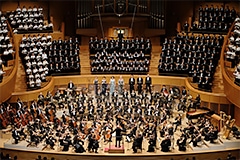 Mahler's Symphony No. 8, with nearly 600 performers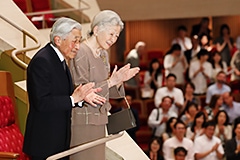 The former Emperor and Empress of Japan
The 2019 PMF Academy consisted of 100 young musicians (96 in the Orchestra Academy, 4 in the Vocal Academy) from 27 countries and regions, selected from among 1,324 applicants. In addition to the Orchestra Academy, the Asian Fellowship Program was held for its 2nd consecutive year. The Orchestra Academy was instructed by faculty members of PMF EUROPE and PMF AMERICA, and was led not only by Artistic Director Valery Gergiev, but also, in commemoration of the festival's 30th anniversary, by former Artistic Director Christoph Eschenbach and Principal Conductor Marin Alsop, who made her first return to the festival since her appearance at the first PMF in 1990.
For Maestro Eschenbach's "PMF Premium Concerts," alumni currently active in orchestras around the world were added to the orchestra, along with a chorus comprised primarily of Sapporo-based singers, for two monumental performances of Mahler's Symphony No. 8. One highlight of the PMF hitaru Special Concert, PMF's first concert in Sapporo Cultural Arts Theater hitaru (newly opened in the fall of 2018), was the passionate performance of Elgar's Cello Concerto given by PMF alumni Dai Miyata. At the PMF Orchestra Concert in Tokyo, led by Maestro Gergiev, PMF had the special honor of hosting His Majesty the Emperor Emeritus Akihito and Her Majesty the Empress Emerita Michiko - the first time members of the Imperial Family have attended PMF in its history.
Altogether, 54 concerts - 3 pre-concerts and 51 concerts during the 28-day festival period - were presented in Sapporo, Tomakomai, Hakodate, Ebetsu, Naie, Makubetsu, Tokyo, and Kawasaki.
Printed Materials (*Japanese)