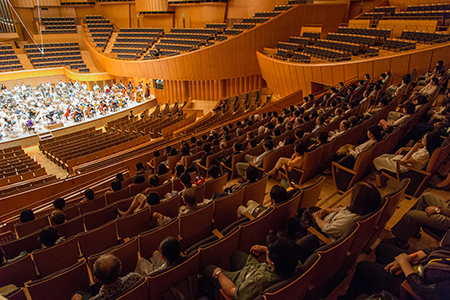 "PMF Open Rehearsals" provide opportunities for the general public to observe the PMF Orchestra working hard at making music in an environment with a distinctly different feel from a performance.
Venue
Sapporo Concert Hall Kitara(Main Hall)
Registration
Please simply register at the venue on the day of the Open Rehearsal. Registration will be closed after the number of participants has reached maximum capacity. (No advance reservation or registration is needed.)
Capacity
200 people per day
Eligibility
All who meet any of the following requirements can attend free of charge.
Please understand that we cannot allow others to attend.
Eligibility
Required items for Registration
U25
(Those born in 1998 or later. Children under 6 years old will not be admitted.)
Personal ID, etc. indicating your age


※Elementary school students must be accompanied by a parent or guardian over 13 years old.

Those with ticket(s) for the program being rehearsed
Concert ticket(s)
Members of "PMF Friends"
PMF Friends membership card
Musicians, music teachers, music students, etc.
ID, etc.