PMF 2018 marks the centennial of the birth of the festival's founder, Leonard Bernstein, and this year's T-shirt was designed by Mr. Yusuke Momma as an expression of his gratitude and respect for Bernstein. This is the 3rd in a highly popular series by this young, Sapporo-based graphic designer, the first 2 of which sold out very quickly.
Don't miss your chance - order yours early!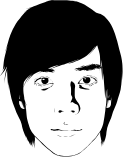 From the designer
"The staff lines recall the striped shirt worn by Bernstein at the first PMF, in 1990. The treble clef in the center functions as the '&' connecting PMF 2018 and the Bernstein centennial year. Ivy was chosen for its symbolism of 'eternal love/friendship' and 'prosperity,' paying homage to Bernstein's lifelong love of music and people, and with hope for the prosperity of the international educational Pacific Music Festival."