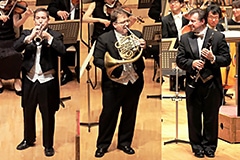 Mark J. Inouye, trumpet/ William Caballero, horn/ Stephen Williamson, clarinet (PMF AMERICA)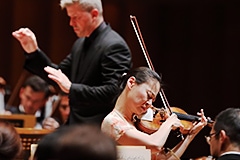 Edwin Outwater, conductor
Midori, violin
The 2018 PMF Academy (the Orchestra and Vocal Academies) consisted of 102 young musicians from 22 countries and regions, selected from among 1,190 applicants.
The 98 members of the Orchestra Academy were led by Artistic Director Valery Gergiev, Principal Conductor John Axelrod, and Guest Conductor Edwin Outwater for their main programs, and instructed by PMF EUROPE and PMF AMERICA. Many works by PMF-founder Leonard Bernstein were performed, in celebration of the 100th anniversary of his birth, including highly popular performances of his "Serenade after Plato's Symposium" with violinist Midori, who made her first return to PMF since the first PMF in 1990. Three members of PMF AMERICA served as soloists with the Sapporo Symphony Orchestra, garnering high praise.
The 4 members of the Vocal Academy, instructed by soprano Gabriella Tucci performed on the Picnic Concert and GALA Concert including performances with the PMF Orchestra. Also, the Asian Fellowship Program was established, with 4 members attending from 4 countries.
Efforts were made to reach young people, with music outreach programs including a series of PMF Open Master Classes, implemented systematically for the first time this year, featuring PMF faculty instructing local music majors, and new "Youth Wing Seats" that allowed audience members 25-years-old and younger to attend orchestra concerts for free.
Forty concerts (including pre-concerts) were held during the 26-day festival, in Sapporo, Tomakomai, Hakodate, Naie, Hiroshima, and Tokyo. Prior to the concert in Hiroshima - PMF's first in 19 years - the Artistic Director and Orchestra Academy visited Hiroshima Peace Park and the Memorial Museum, as an expression of the desire for peace central to the concept of PMF.
Printed Materials (*Japanese)