Daily life as a PMF Academy member
From the PMF 2023 Academy
Trumpet

Nacho Civera Chulbi

Visiting Japan, encountering Japanese culture and people has changed me a lot. The way they live, how they treat people, and how they express their gratitude for everything really impressed me. I will visit Japan again! How music can join people from all over the world in a festival without any problems was also amazing to see.
Horn

Una Weske
© Falk Wenzel

I loved the different types of concerts we did and the ones we could listen to and I got to talk to some of the residents which was very lovely. I particularly gained a lot from the concert we did in the school for children with special needs and would have loved to play even more in non-profit spaces where people that usually don't get to listen to concerts can enjoy the music.
Tuba

Nodoka Watanabe

Before PMF, my main goal had been to pass auditions, but I've come to realize that passing auditions is not the ultimate objective. I learned many important things about what is expected as a member of the section, how to use my ears, and interpersonal skills after successfully auditioning.
Viola

Heyuen Cheng

This was my first time playing in such a high-level orchestra. It was so different from all the orchestras I have ever played in. Everyone was so devoted and I enjoyed so much making wonderful music together with them. Also I have a lot of beautiful memories with them besides music and made several good friends. It really was a wonderful summer and now I always wish that I could go back to Sapporo right away and continue with the festival.
Violin

Andrej Balaž

My best musical experience was when we finished playing Bruckner in Tokyo. Knowing it was the last time we all play together was hard but it was the thing that made that concert so special. When everyone started crying I felt really sad but very happy at the same time because of all beautiful things that happened during the festival.
Viola

Sophie Nickel

I was impressed by what an enthusiastic audience the PMF concerts attract, lots of audience members came and interacted with us after concerts, which I really enjoyed. I felt like I was part of something very important in the culture of Sapporo.
The itineraries, culture, staff/faculty, concerts, meals, everything was efficient and clean. Everyone were very skilled musicians.
PMF was a life changing experience. The chance to work with incredible artists from all around the world is just so amazing.
Playing with such a diverse group of musicians opened my eyes to alternative styles of playing and musical interpretation which genuinely rekindled my passion for this artform.
I learned more in the last month for orchestra repertoire then I did in the last year. The coaching was truly incredible.
My most enjoyable non-musical experiences are meeting so many new friends, listening to the story of each one of them, talking about the future, about their hopes and aspirations, talking about our countries and experiences or our life in general.
Kitara Hall and the surrounding park were more beautiful than I could have imagined. And Sapporo is a magnificent city! It feels like home a little bit. I think PMF is located perfectly. I cant wait to visit again.
About Sapporo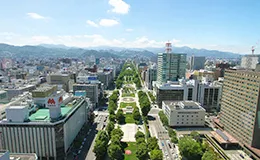 PMF takes place primarily in Sapporo, the largest city on the island of Hokkaido, northern Japan. The natural resources are beautiful, the air is clean, and the mild summer climate make it one of the most popular places to be in summertime Japan.
*A normal daytime high is 26℃ (79°F) and a nighttime low is 18℃ (64°F).
Facilities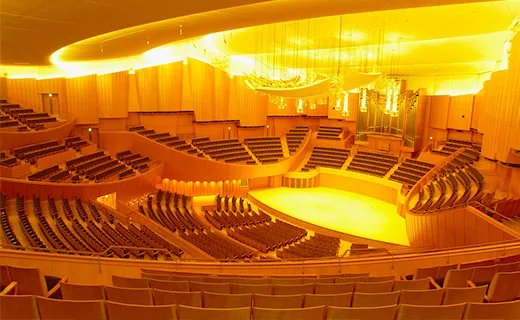 Most rehearsals and concerts happen in Sapporo Concert Hall Kitara. It's a world-class hall – Sir Simon Rattle once called it "the best hall in the world." It is a 15-minute walk from the Academy hotel. The PMF Library is in Kitara too, with scores and parts for all music to be performed during the festival (and more) available for checkout.
Schedule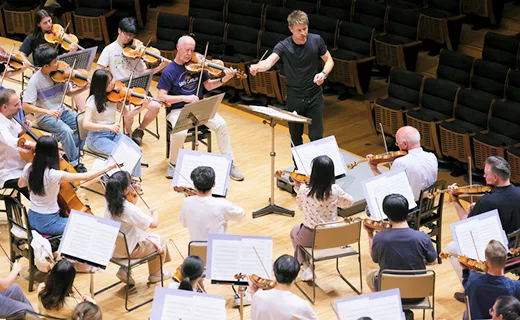 Seating auditions are held on the day after arrival. These determine orchestral seating for the entire festival. Rehearsals for both orchestra and chamber music start the next day, and continue until the end of the festival. Chamber coachings and masterclasses by faculty happen in the evenings. It's an intensive schedule – music, music, music! In addition to the main orchestral programs, there are also chamber concerts and the PMF Link Up Concert for children.
Example daily schedules;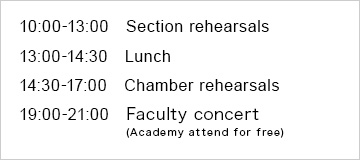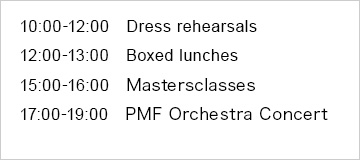 Concerts
The PMF Orchestra performs in Kitara, the Sapporo Art Park Outdoor stage, and other halls including Suntory Hall in Tokyo. Faculty often lead the sections for parts of each program, but the Academy performs on their own quite a bit. Chamber concerts happen in all sorts of venues, from public spaces to concert halls.
*Concert attire ranges from formal to semi-casual, depending on the situation. Some concerts are performed in PMF T-shirts (which Academy members receive when they arrive).
Japanese cultural activities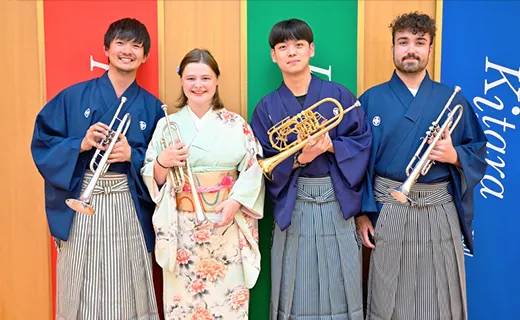 Optional activities are provided during free time, free of charge, such as Japanese cultural activities. In the past, these have included learning about the Japanese tea ceremony, trying on kimonos, or playing traditional Japanese instruments. Sometimes there are even optional day-trips!
Meals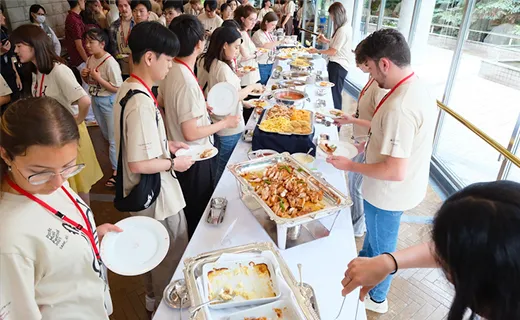 Sapporo cuisine is famous in Japan – everyone finds something to love!
Breakfast is served every morning at the hotel. Lunch and dinner are provided in a variety of ways, either meals or meal stipends. Sometimes there is a buffet at the Terrace Restaurant Kitara, other times there are boxed lunches ("bento"), and often Academy members eat out where they please.
*Vegetarian or allergen-free boxed lunches are available upon request.
Costs
Our goal is to ensure that talented young musicians who pass auditions are able to participate regardless of their financial situation. PMF covers the costs of Academy members' meals, round-trip flights, accommodation, and all educational content provided during the festival.
So almost all costs are covered for the Academy. But there are some expenses that PMF cannot cover – insurance, any/all required visas, instrument repair during the festival, travel between their home and departure airport, and personal expenses such as shopping, for example.
The PMF Experience
Academy members often report having life-changing experiences at PMF. The multicultural exchange, the full schedule, new experiences, musical challenges, new friendships, intense education – it can be a lot! It is a unique experience, with lasting impact. And it is a lot of fun!