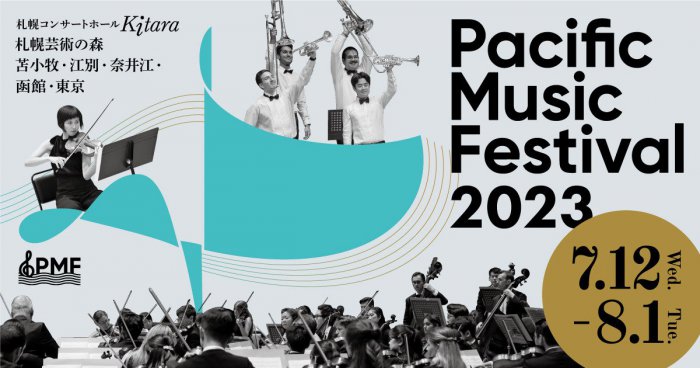 ---
The PMF 2023 Outline!
Title
2023 Pacific Music Festival in Sapporo (PMF 2023)
Duration
21 days from Wednesday, July 12 to Tuesday, August 1
Venues
Sapporo Concert Hall Kitara, Sapporo Art Park,
Tomakomai, Ebetsu, Naie, Hakodate, Tokyo
Conductors
Krzysztof Urbański (Shostakovich: Symphony No. 5, and more)
Thomas Dausgaard (Bruckner: Symphony No. 9, and more)
Tickets
General ticket sales start on May 20 (Sat) at 10:00 AM Japan Time.
*ticket sales for select concerts will begin later.
Sponsoring Organizations
Pacific Music Festival Organizing (PMF) Committee, the City of Sapporo
Mutual Sponsor
Sapporo Cultural Arts Foundation (Sapporo Concert Hall Kitara)
Pacific Music Festival 2023 HIGHLIGHTS
The PMF Orchestra Academy!
Seventy-four young musicians from 22 countries and regions (including a Paraguayan musician for the first time!) will gather in Sapporo to form the 2023 Pacific Music Festival Orchestra Academy! Selected via a highly competitive audition process, with 1,090 auditions from 68 countries and regions – the highest audition numbers in recent years – the Academy will perform 7 orchestral concerts and various chamber concerts.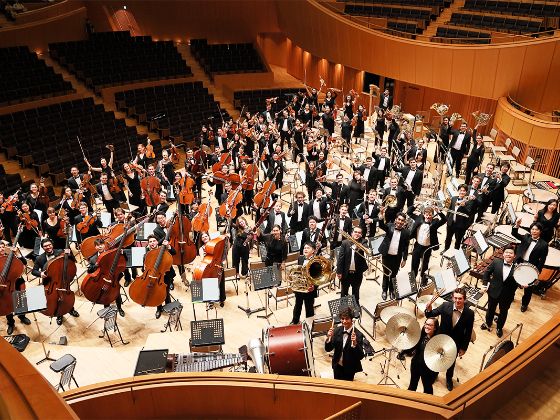 Participating artists and Academy members will be introduced to audiences in this new one-hour program, designed to bring you closer to the musicians of PMF, with performances by PMF VIENNA and PMF BERLIN faculty ensembles, and the PMF Orchestra. The festival starts with Bernstein's Candide!
Krzysztof Urbański returns to PMF!
At PMF 2011, Krzysztof Urbański (still in his 20s!) left lasting impressions on audiences and performers alike. He has since expanded his career steadily, taking on music director and chief conductor positions with well-known orchestras in Europe and the United States, making his debut with the Berliner Philharmoniker in 2014 and receiving the Leonard Bernstein Award* in 2015. And now he returns to PMF!
In addition to appearing on Opening Night, Urbański will also conduct Program A (in Sapporo and Tomakomai) with a program including Grieg's Piano Concerto performed by world-renowned pianist Jan Lisiecki! Lisiecki too is a recipient of the Leonard Bernstein Award* (2013), and his synergy with Urbański is now well known. The program concludes with Shostakovich's beloved masterwork Symphony No. 5, of which Urbański - speaking of the prayerful 3rd movement - remarks, "This must surely be the most personal music [Shostakovich] ever wrote."
*The Leonard Bernstein Award was established in 2002 by the Schleswig-Holstein Musik Festival in memory of the late maestro, who had been deeply involved in the founding of the festival.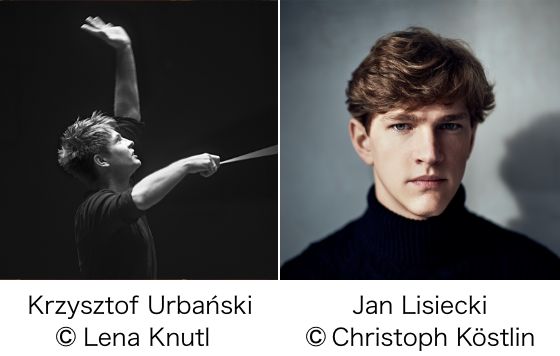 Taking on Bruckner's grand final testament, with Thomas Dausgaard
Bruckner: Symphony No. 9, with completed fourth movement
Appearing at PMF for the first time, Thomas Dausgaard will lead the PMF Orchestra in Program B – the Picnic Concert, PMF GALA Concert, and Tokyo Concert. Dausgaard has held positions such as Chief Conductor of the BBC Scottish Symphony Orchestra and Music Director of the Seattle Symphony Orchestra, with a prolific recording career including over 70 CDs to date. His passion for education and penchant for innovative programming will come together at PMF as he leads the PMF Orchestra in taking on the challenge of a piece in which he specializes: Bruckner's grand final testament, his complete Symphony No. 9. Though it was mostly finished, Bruckner's death cut short his work on the symphony's 4th movement.
This completion (SMPC ed., 1984-2012) has drawn international attention thanks both to the care with which it was prepared based on Bruckner's work, and to the advocacy of Sir Simon Rattle, who has performed and recorded it with the Berliner Philharmoniker. Enjoy the Hokkaido premiere of Bruckner's complete 9th with the PMF Orchestra!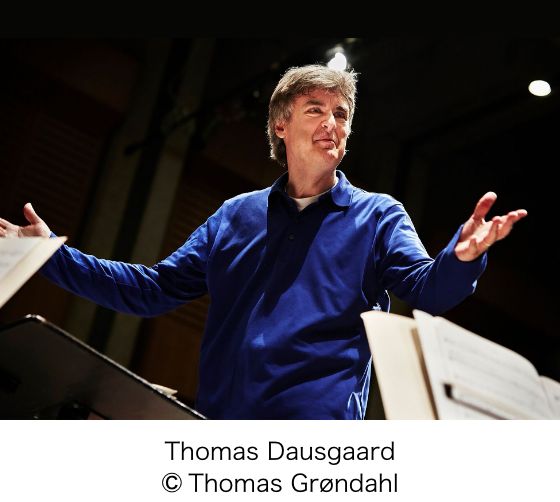 PMF alumni make triumphant returns to PMF!
The members of ARK BRASS, each active in the classical music scene and beyond, and most of whom are PMF alumni, represent the top brass playing in Japan. They will perform in Part 1 of the PMF GALA Concert and Picnic Concert, with highly varied programs tailored to each concert!
And the PMF Homecoming Concert features the Pacific Quintet, 5 musicians who met as Academy members at PMF 2017 and went on to form a quintet based in Berlin. Soon after their premiere concert in 2019, they won 2nd Prize at the 2019 Carl Nielsen International Chamber Music Competition. Don't miss their triumphant return to PMF!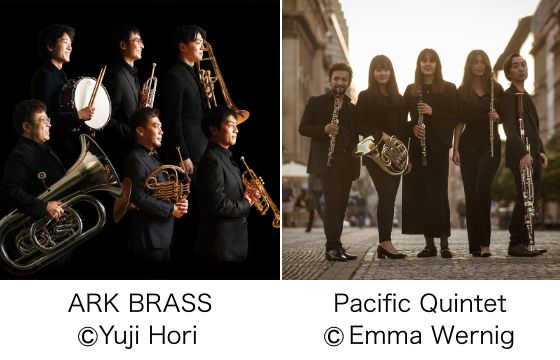 Kentaro Kawase showcases the bounty of links between "Sakkyo" and PMF!
The Sapporo Symphony Orchestra – Hokkaido's only professional orchestra, affectionately known as "Sakkyo" and including 12 PMF alumni among their members – will perform at the PMF Host City Orchestra Concert! Kentaro Kawase, who served as PMF Assistant Conductor in 2007-09 and is now Sakkyo's Resident Conductor will lead a program featuring Tchaikovsky's 5th Symphony! Serving as concerto soloist is Denis Bouriakov, principal flute of the Los Angeles Philharmonic and a PMF alumni himself, having in recent years returned to serve as a faculty member of PMF AMERICA. Together, Kawase and Bouriakov will bring Kevin Puts' Flute Concerto to the PMF stage for the first time – all in all a Sakkyo concert only possible at PMF!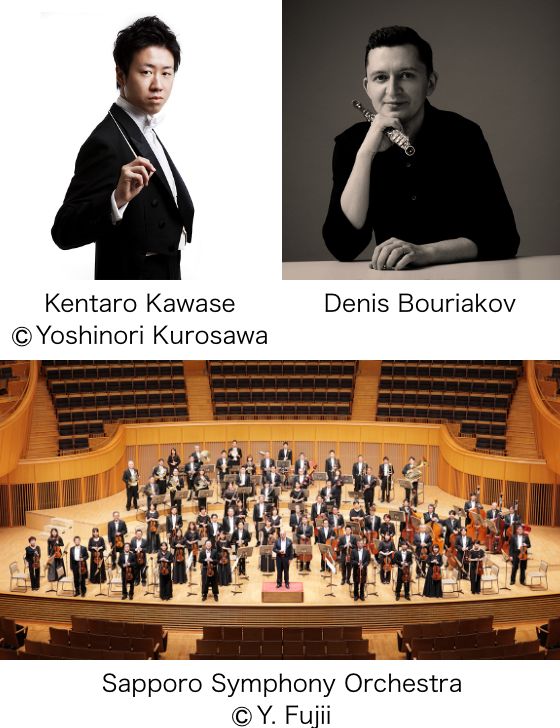 Various chamber concerts throughout Hokkaido
In addition to orchestral performances, members of the Academy and faculty (PMF VIENNA, PMF BERLIN, PMF AMERICA) will perform in a wide range of chamber concerts, in Sapporo, Hakodate, Ebetsu, Naie, and more! PMF Volunteer Concerts bring such music to people who find it difficult to attend a concert hall, and Outreach Concerts take place in public spaces, allowing passersby to casually enjoy music as well!
Experience the joy of learning about classical music!
PMF also offers an array of rewarding educational programs designed to make classical music more familiar, and fun!

The educational PMF Link Up Concert is presented in collaboration with New York's Carnegie Hall, for Sapporo elementary school students, who have opportunities to perform along with the PMF Orchestra and to experience world-class music firsthand.

The PMF Classical LAB♪ vol. 5 will feature composer/pianist Masanori Kato as presenter of a fun musical lecture for both children and adults.
PMF Open Masterclasses allow audiences to observe PMF faculty instructing members of the Academy, and to experience how their music improves as a result! These are especially recommended for musicians and music educators.
And Open Rehearsals present the opportunity to see the PMF Orchestra rehearse in Sapporo Concert Hall Kitara! These are free to attend for people involved in music to attend, and for elementary students to 25-year-olds ("U25" – those born in 1998 or later).
We sincerely look forward to seeing you there!
For more, see these pages as well!