HOME > > Chamber Music Concert/Recital (indoor) > PMF Homecoming Concert
Added to
Your Schedule
Chamber Music Concert/Recital (indoor)




PMF alumni make triumphant returns to PMF!


PMF Homecoming Concert


- Pacific Quintet -

This performance has ended

the PMF Homecoming Concert features the Pacific Quintet, 5 musicians who met as Academy members at PMF 2017 and went on to form a quintet based in Berlin. Soon after their premiere concert in 2019, they won 2nd Prize at the 2019 Carl Nielsen International Chamber Music Competition. Don't miss their triumphant return to PMF!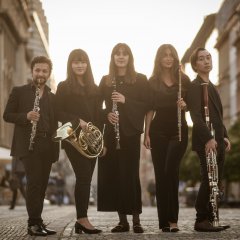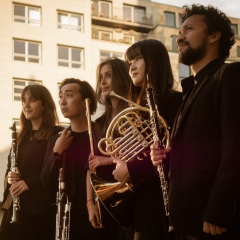 Date

Add to Calendar
PMF Homecoming Concert

July 13 (Thu), 2023 19:00 (doors open at 18:30) - :
By clicking the buttons below, you can automatically add schedules to your Google Calendar.
You can automatically add schedules to your Google Calendar, or download them to iCal.
July 13 (Thu), 2023
Artists
Pacific Quintet
 Aliya Vodovozova, flute
 Fernando José Martínez Zavala, oboe
 Liana Leßmann, clarinet
 Kenichi Furuya, bassoon
 Haeree Yoo, horn
Members of PMF Berlin
---
Program
◆Rossini (arr. J. Linckelmann):
Overture to "Il barbiere di Siviglia"
(ca. 7 minutes) 
 
◆arr. K. Yamamoto:
Japanese songs
(ca. 10 minutes) 
 Hana Ichi Monme
 At the Shore
 Village Festival
 Furusato (Home Country)
 
◆Fazıl Say:
Wind Quintet, Op. 35 "Alevi Dedeler Rakı Masasında"
(ca. 15 minutes)
 Allegro con brio
 Andante
 Menuetto. Allegretto
 Finale. Presto
 
 
 - Intermission -
 
 
◆Nielsen:
Wind Quintet, Op. 43
(ca. 25 minutes)
 Allegro ben moderato
 Menuetto
 Preludium. Adagio
 Tema con variazioni
 
 
and more
 
 
- Duration: c. 1 and a half hour (with intermission) -

---
Admission

Yen, incl. tax
Day-of tickets will be available starting at 18:00.

Designated seat: 2,000
U25: 1,000

Please submit the online form below. PMF staff will then contact you via email with further details. Tickets can be paid for and received on the day of the concert.
Application to purchase PMF 2023 concert tickets
---
Notes
*Program and artists are subject to change.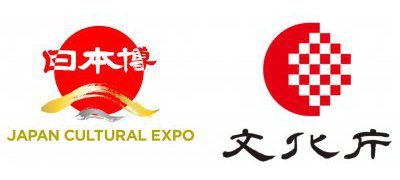 Supported by the Agency for Cultural Affairs, Government of Japan, Fiscal Year 2023

Sponsoring Organizations: Pacific Music Festival Organizing Committee / City of Sapporo
Mutual Sponsor: Sapporo Concert Hall Kitara

Pacific Music Festival Organizing Committee
+81-11-242-2211
This performance has ended
Your Schedule