HOME > > Outdoor Concert > [Cancelled] Picnic Concert
Added to
Your Schedule
Outdoor Concert


[Cancelled] Picnic Concert


- Leonard Bernstein Memorial Concert -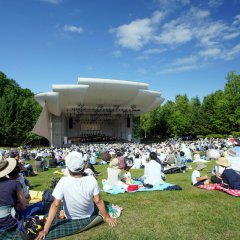 Date

Add to Calendar
[Cancelled] Picnic Concert

July 31 (Sat), 2021 14:00 (doors open at 13:00)
By clicking the buttons below, you can automatically add schedules to your Google Calendar.
You can automatically add schedules to your Google Calendar, or download them to iCal.
July 31 (Sat), 2021
Time
14:00 (doors open at 13:00)
Part I [14:00~]
TBD

Part II [ca. 15:30~]
PMF Orchestra Concert

Nodoka Okisawa, conductor
Fumiaki Miura, violin*
PMF Orchestra JAPAN
Takashi Nagamine, concertmaster
 
 
◆Y. Akutagawa:
Triptyque for string orchestra
 Allegro
 Berceuse Andante
 Presto
 
◆Prokofiev:
Violin Concerto No. 2 in g minor, Op. 63*
 Allegro moderato
Andante assai
Allegro, ben marcato
 
 
 - Intermission -

◆Stravinsky:
Petrushka (1947 version)
 Tableau I: The Shrovetide Fair
  Russian Dance
 Tableau II: Petrushka
 Tableau III: The Moor
  Waltz
 Tableau IV:The Shrovetide Fair and the Death of Petrushka
  Wet-Nurses' Dance
  Peasant with Bear
  Gypsies and a Rake Vendor
  Dance of the Coachmen
  Masqueraders
  The Scuffle: Moor and Petrushka
  Death of Petrushka
  Police and the Juggler
  Apparition of Petrushka's Double


 - Duration: c. 3 hours 30 minutes (with intermission) -
---
Admission

Yen, incl. tax
Day-of tickets will be available starting at 13:00.

[Valid all day]
Chair (Unreserved Seat) 3,000
Lawn (Unreserved Seat) 2,000
U25: Chair 1,000 / Lawn Free
*All ages welcome!
---
Notes
*Program and artists are subject to change.
 
Pacific Music Festival Organizing Committee
+81-11-242-2211
Your Schedule