HOME > > Chamber Music Concert/Recital (indoor) > PMF AMERICA Digital Concert
Added to
Your Schedule
Chamber Music Concert/Recital (indoor)




【Online streaming only】


PMF AMERICA Digital Concert

This performance has ended

PMF faculty are sadly unable to share their mastery with us in Sapporo this summer, but they have instead recorded ensemble performances in their respective locations. Don't miss these exclusive releases during the PMF 2021 festival period!

On demand streaming period:
July 24 (Sat) 19:00 (JST) ~ August 6 (Fri) 23:59 (JST)
*Sales for the concert will end at 10:00pm Japan-time on the final sales day.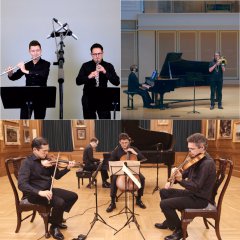 Date

Add to Calendar
PMF AMERICA Digital Concert

July 24 (Sat), 2021 19:00 (doors open at ) - :
By clicking the buttons below, you can automatically add schedules to your Google Calendar.
You can automatically add schedules to your Google Calendar, or download them to iCal.
July 24 (Sat), 2021
Artists
PMF AMERICA (principal players of major orchestras in the United States)
 David Chan, violin
 Daniel Foster, viola
 Rafael Figueroa, cello
 Alexander Hanna, double bass
 Denis Bouriakov, flute
 Eugene Izotov, oboe
 Daniel Matsukawa, bassoon
 William Caballero, horn
 Denson Paul Pollard, trombone
 Mariko Anraku, harp
and more
---
Program
◆Schubert:
Schwanengesang, D. 957
 IV. Ständchen
 
◆Mozart:
Queen of the Night aria from "The Magic Flute"
 
◆Bottesini: Gran duetto No. 3
 Andantino
 
◆Šulek:
Trombone Sonata "Vox Gabrieli"
 
◆Telemann:
Sonata No. 1 in G major, TWV 40:101
 Soave
 Allegro
 Andant
 Allegro
 
◆R. Kahn: Serenade in F Minor, Op. 73
 
◆Piazzolla:
'Café 1930' from "History of the Tango"
 
◆Mozart:
'Voi che sapete' from "Le nozze di Figaro," K. 492
 
◆Dvořák:
Piano Quartet No. 2 in E-flat major, Op. 87
 Allegro con fuoco
 Lento
 Allegro moderato, grazioso
 Finale. Allegro ma non troppo
 
and more
---
Admission

Yen, incl. tax
Streaming ticket: 2,000

*Processing fees apply to each ticket.
---
Notes
*Program and artists are subject to change.
  
Pacific Music Festival Organizing Committee
+81-11-242-2211
This performance has ended
Your Schedule