HOME > Schedule > Outreach Concert > PMF Ensemble Concert
Added to
Your Schedule
Outreach Concert




Sapporo International Art Festival 2014 - Collaborative Program


PMF Ensemble Concert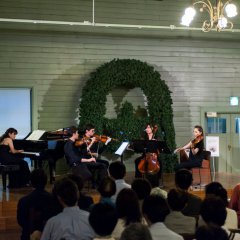 Date

Add to Calendar
PMF Ensemble Concert

July 30 (Wed), 2014 19:00 (doors open at 18:30)
By clicking the buttons below, you can automatically add schedules to your Google Calendar.
You can automatically add schedules to your Google Calendar, or download them to iCal.
July 30 (Wed), 2014
Time
19:00 (doors open at 18:30)
Artists
Members of the PMF Orchestra
Program
◆R. Strauss (arr. Hasenöhrl):
Till Eulenspiegel Einmal Anders!
 Cornelia Schaub, clarinet
 Josh Baker, bassoon
 John Adair, horn
 Scott Jackson, violin
 Zachary Yamamura Green, double bass

◆Mozart:
Duo for Violin and Viola in B flat major K. 424
 Nicole Schroeder, violin
 Sarah Tarablus, viola

◆Haydn:
String Quartet in d minor Op. 76 No. 2 "Fifths"
 Radu Ropotan, violin I
 Yu-Kun Hsiang, violin II
 Shiori Inui, viola
 Minji Choi, cello

◆Bernstein:
West Side Story suite
◆Bernstein:
One Hand One Heart
◆Haydn:
Vollendet ist das grosse Werk
◆Scheidt:
Canzon Cornetto
◆Händel:
Suite from "Water Music"
 Chuta Chulavalaivong, horn
 Kohei Sugita, horn
 Aaron Krumsieg, trumpet
 Andrew Moreschi, trumpet
 Megumi Nakazawa, trumpet
 Ayano Tomioka, trumpet
 Keith Dyrda, trombone
 Riyo Soejima, trombone
 Dillon Swift, trombone
 Mitchell Nissen, bass trombone
 Benjamin Darneille, tuba
Admission
Free
Capacity: 150 people
Registration will be closed when full capacity is reached. Seats cannot be reserved for people not present.
Notes
Program and artists are subject to change.

Pacific Music Festival Organizing Committee
+81-11-242-2211

[Attendees] 150
This performance has ended
Your Schedule