HOME > Schedule > Outreach Concert > PMF Ensemble Concert
Added to
Your Schedule
Outreach Concert




Sapporo International Art Festival 2014 - Collaborative Program


PMF Ensemble Concert


- Chiiki Fureai Concert Vol. 13 -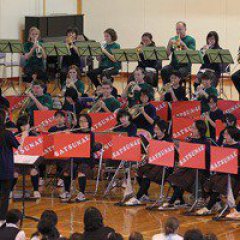 Date

Add to Calendar
PMF Ensemble Concert

July 26 (Sat), 2014 14:00 (doors open at 13:00)
By clicking the buttons below, you can automatically add schedules to your Google Calendar.
You can automatically add schedules to your Google Calendar, or download them to iCal.
July 26 (Sat), 2014
Time
14:00 (doors open at 13:00)
Artists
Members of PMF Orchestra
Higashinaebo Junior High School Brass Band
Program
◆Mashima:
Anohi Kiitauta
◆Fukase (arr. S. Miyagawa):
RPG
◆Beethoven (arr. G. Nozaki):
Daiku Brass Rock*
◆Ligeti:
Six Bagatelles for Wind Quintet
 Evgeniya Kossmann, flute
 Adele-Marie Buis, oboe
 Andrea Alvarez Martinez, clarinet
 Maria Castro, bassoon
 Alban Beunache, horn

◆Haydn:
String Quartet in d minor Op. 76 No. 2 "Fifths"
 Radu Ropotan, violin I
 Yu-Kun Hsiang, violin II
 Shiori Inui, viola
 Minji Choi, cello

◆Copland:
Quiet City
 Yumi Yoshimura, English horn
 Marcos Garcia Vaquero, trumpet
 Tammy Wang, violin I
 John Kruer, violin II
 Midori Witkoski, viola
 Victoria Lefèvre, cello
 Maki Nishijima, double bass

◆Spohr:
Grand Nonet in F major Op. 31
 Kana Ohtani, flute
 Nathanael Amrany, oboe
 Shaquille Southwell, clarinet
 Long Nguyen, bassoon
 Mikhailo Babiak, horn
 Felix Chen, violin
 Pin-Lin Chu, viola
 Austin Fisher, cello
 Clark Brown, double bass
Admission
Free (admission vouchers required)

Distribution begins on May 22 (Thu) at the Higashi Ward Fushiko Honcho Liaison Center, and other places.
Notes
Program and artists are subject to change.

Higashi ward Fushiko Honcho Liaison Center
+81-11-784-5534

[Attendees] 345
This performance has ended
Your Schedule