Archives
[HD Video] Part II of the PMF GALA Concert
PMF Orchestra Concert <Program C>
Experience the culmination of PMF 2016 in high definition video: the PMF Orchestra Concert <Program C>, from the PMF GALA Concert (August 6, Sapporo Concert Hall Kitara), featuring large masterpieces including Shostakovich's Symphony No. 8, led by Artistic Director Valery Gergiev. Enjoy the presence of sound only possible through HD – almost as if you're actually there!
Streaming period:
September 30 (Fri), 2016 – January 31 (Tue), 2017
Recording:
August 6 (Sat), 2016
Sapporo Concert Hall Kitara
Artists:
Valery Gergiev, conductor
PMF AMERICA*
PMF Orchestra
Program:
Mendelssohn: Symphony No. 4 in A major Op. 90 "Italian"

Allegro vivace

[00:52]

Andante con moto

[11:39]

Con moto moderato

[17:39]

Saltarello. Presto

[25:06]

Shostakovich: Symphony No. 8 in c minor Op. 65*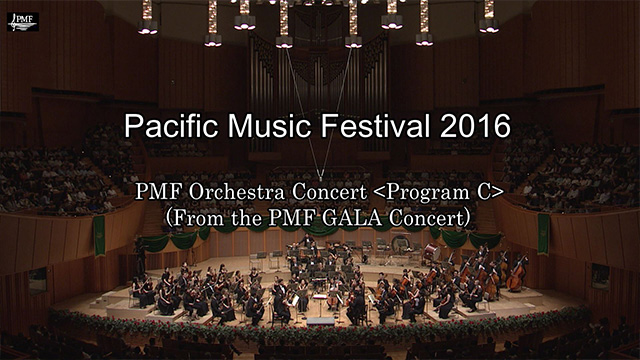 *Video resolution automatically adjusts according to your bandwidth.
JASRAC
No. 160822535

V-1603927
[HD Audio]


PMF2016

PMF Orchestra Concert < Program A >

PrimeSeat, a high definition streaming audio service, will stream the PMF Orchestra Concert <Program A> for free! Enjoy the rare experience of high definition audio, with a sampling rate over 128 times that of a CD!

Sampling rates:

DSD5.6MHz / DSD2.8MHz

Recording:

July 23 (Sat)/24 (Sun), 2016 Sapporo Concert Hall Kitara

Artists:

John Axelrod,conductor
Sachie Konno, soprano*
PMF EUROPE
PMF Orchestra

Program:

Debussy: La Mer

I. De l'aube à midi sur la mer
II. Jeux de vagues
III. Dialogue du vent et de la mer

Mahler: Symphony No. 4 in G major*

I. Bedächtig, nicht eilen
II. In gemächlicher Bewegung, ohne Hast
III. Ruhevoll, poco adagio
IV. Wir geniessen die Himmlischen Freuden. Sehr behaglich

How to Listen:

< Requirements >
・Personal computer (Windows 7, 8.1, 10/Mac OS X 10.8, 10.9, 10.10, 10.11)
・"PrimeSeat" (free)
 How to install/use PrimeSeat
・DSD-compatible USB DAC is recommended
・HD-compatible headphones or analogue speakers
・Internet connection (with a speed of at least 12Mbps is required)

< Playback >
(1) Connect your USB DAC to compatible headphones or speakers.
(2) Install PrimeSeat software.
(3) Open PrimeSeat, choose "PMF Orchestra Concert" from the drop-down list, and press Play.

< Precautions >
・An internet connection with a speed of at least 12 Mbps is required.
 Playback is not possible with slower connections such as ADSL, nor
 with mobile phones.
・PrimeSeat is the only software supported.
 No other software is supported.
・PrimeSeat is an audio-only service.
 This audio is non-recordable.
・HD audio will play only through HD-compatible headphones or
 HD-compatible speakers.
 Use of any other headphones or speakers will only result in
 standard-quality audio.

[HD Video]


PMF2016

Opening Concert

Enjoy a portion of the Opening Concert, in the beautiful early-summer Sapporo Art Park: the first performance by the PMF 2016 Orchestra!

Streaming period:

September 9 (Fri), 2016 - December 8 (Thu), 2016

Recording:

July 16 (Sat), 2016 14:30 - 15:20
Sapporo Art Park Outdoor Stage

Artists:

Keitaro Harada, conductor
Members of the PMF Faculty

Rainer Seegers, percussion (Berliner Philharmoniker)
Mariko Anraku, harp (Metropolitan Opera Orchestra)

PMF Orchestra

Program:

1. Debussy: "Jeux de vagues" from La Mer

[01:12〜]

2. Wagner: "Der fliegende Holländer" Overture

[09:39〜]

3. Verdi: "La forza del destino" Overture

[22:48〜]

JASRAC
No. 160822535

[HD Video] Part II of the PMF GALA Concert


PMF2015

PMF Orchestra Concert
< Program C >

Broadcast period

August 17 (Mon) - Octover 31 (Sat), 2015
June 16 (Thu) - July 31 (Sun), 2016


Recording

August 1 (Sat), 2015 Sapporo Concert Hall

Artists

Valery Gergiev, conductor
Dmitry Masleev, piano*
PMF AMERICA
PMF Orchestra

Program

Rossini: Overture to "William Tell"
[00:16~]
Rachmaninoff: Piano Concerto No. 2 in c minor Op. 18*

Moderato

[14:00~]

Adagio sostenuto

[24:41~]

Allegro scherzando

[35:55~]

< Encore >
Tchaikovsky: 18 Pieces Op. 72 No. 18 "Scène dansante (invitation au trépak)" *
[49:31~]
Shostakovich: Symphony No. 10 in e minor Op. 93

Moderato

[54:38~]

Allegro

[75:47~]

Allegretto

[80:03~]

Andante - Allegro

[92:05~]

[HD Audio]


PMF2015

PMF Orchestra Concert
< Program B >

Through the cooperation of Internet Initiative Japan (IIJ), a free broadcast of PMF Orchestra Concert < Program B > can now be experienced in high definition (HD) audio! Part of IIJ's cutting-edge experimental broadcasting of high definition DSD 5.6 MHz recordings, this audio features a sampling rate 128-times higher than CD audio. Experience concert-hall presence with HD audio!

Recording

July 25 (Sat), 2015 Sapporo Concert Hall Kitara

Term

Monday, August 17 to Saturday, Octorber 31, 2015

Artists

Andris Poga, conductor
PMF AMERICA
PMF Orchestra

Program

Track 1: PMF Orchestra Concert (First Half)

Weber: Overture to 'Oberon'
[01:36~]
Mozart: Symphony No. 34 in C major K. 338

Allegro vivace

[13:40~]

Andante di molto

[20:50~]

Allegro molto

[27:37~]

Track 2: PMF Orchestra Concert (Second Half)

Tchaikovsky: Symphony No. 5 in e minor Op. 64

Andante - Allegro con anima

[01:37~]

Andante cantabile, con alcuna licenza - Moderato con anima

[17:07~]

Valse. Allegro moderato

[31:29~]

Finale. Andante maestoso - Allegro vivace

[37:20~]