In celebration of the 30th anniversary of PMF's founding, 2019 features two different T-shirt designs, in two colors!
The 4th in a series of well-loved designs by Sapporo-based Yusuke Momma, the front designs are entirely hand-drawn.
Though T-shirt production numbers were increased each of the past 3 years, they have consistently sold out; order yours early this year, while supplies last!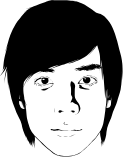 From the designer
I made use of the forms of 2 of the core instruments that bring an orchestra to mind: violin and horn. The anniversary "30" is presented with a pop feel.

I enjoyed this one! Based on the 7 lucky deities of Japanese folklore, it is my hope that these 'lucky 7' will bring continued success to PMF.
*Colors: Royal Blue, Charcoal Black