HOME > PMF Academy Members > Violin > Kenta Nomura
Academy
Violin
Kenta Nomura
Japan
Juilliard Schoolas of March, 2022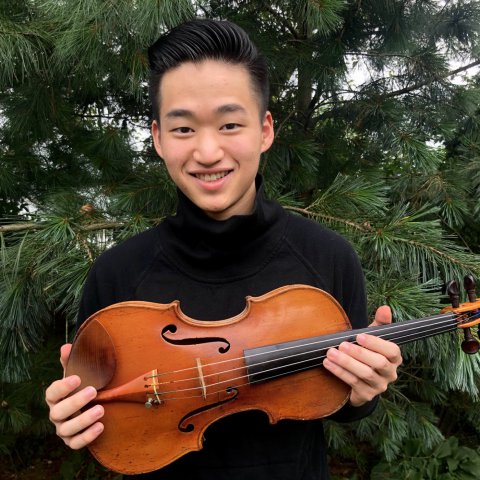 Message (as an Academy member) to PMF supporters
What are you looking forward to about PMF?
I am looking forward to the new people/musicians I will get to meet and communicate with, socially and musically as well. Also, I am truly excited of experiencing the entire journey from all the rehearsals and preparation all the way to the performances where I will get to enjoy making music with these musicians!
What would you like to say to fans and supporters of PMF?
Dear PMF supporters, Performing for all of you is what excites us the most and we truly thank each and every one of you for all of your love and support for our Festival! We can't wait to get back on the stage and share our music with all of you!
【After PMF 2022】What are some impressions of your time in Sapporo?
This was my second time being in Sapporo and I can truly say that this city is as beautiful, warm, and fun as any city you can ever visit! Rehearsing and performing in the great Kitara Hall was such a privilege and the most memorable experience for me. Lastly, I so admire the people of Sapporo for their generosity, graciousness, and their incredible appreciation for PMF and classical music.
【After PMF 2022】What did you take away from your time at PMF?
PMF has given me such incredible memories and experience of the highest level of orchestral/chamber playing. There is so much I have learned from the phenomenal PMF staff/faculty as well as my fellow colleagues and for that, I am eternally grateful.
【After PMF 2022】What advice would you give to people thinking of auditioning for PMF?
Go for it!! I myself have participated in many music festivals in my life and I can honestly say and confirm that PMF stands out of all of them as it remains today as the music festival that has not only taught me the most, yet has provided me with the greatest opportunities and highest-level of performers and teaching I have ever seen.