HOME > PMF Academy Members > Trumpet > Keisuke Takamatsu
Academy
Trumpet
Keisuke Takamatsu
Japan
Conservatoire National Supérieur de Musique et de Danse de Parisas of March, 2023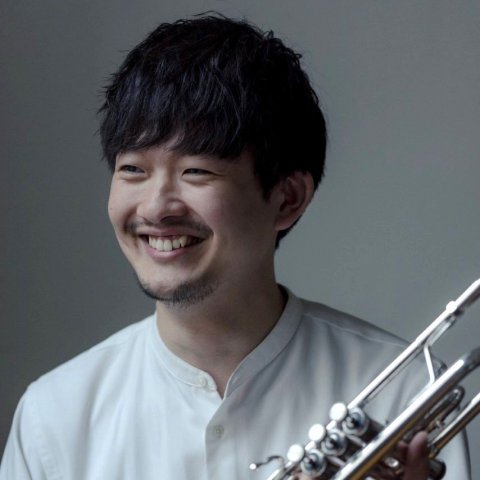 Message (as an Academy member) to PMF supporters
What are you looking forward to about PMF?
I look forward to getting to know people from all over the world who I wouldn't have met if not for music, and to spending time with everyone in Sapporo, a city I love.
Please type a short message to music fans and those who support PMF in Sapporo and throughout Japan.
It is a longtime dream of mine to become a PMF Academy member, and I look forward to making music with peers from all around the world, coming together through music. I hope that listeners in Sapporo, where I was born and raised, and throughout Japan will enjoy the music we make together!
Which are some things you like about Hokkaido?
Hokkaido is a vast land with abundant nature, a comfortable climate, and its thriving city center is Sapporo, a very livable city where you can find anything you need. And then there's the delicious food! Hokkaido is known for sushi and other local specialties like ramen and the grilled lamb dish "jingisukan!" I grew up quite freely in a residential area, playing in front of my house every day - aiming to become a professional basketball player! lol When I started playing music I could practice at home without worrying about the noise, and then during university entrance exams I could play trumpet and piano late into the night, after returning from club activities. It was a great environment for me.
And what are some things you like about where you live now?
I currently live in Paris, France, a beautiful city with picturesque views everywhere you look. The scenery changes completely from day to night. I love French music like Debussy and Ravel, and walking around the streets of Paris while listening to their music and seeing the orange streetlights along the Seine River, or the vibrant streets near the Opera House, I wonder if they were inspired by these views, maybe while enjoying coffee and croissants at a café. It makes me really happy to be in the place where they once found inspiration. One great thing about Europe is how easy it is to visit other countries. I've been to Germany and Spain, made friends all over, and listened to local orchestras. Though living in France, I've been able to experience completely different cultures. Though you can connect with people from around the world while living in Japan - musically speaking, you can take lessons with teachers from around the world even in Japan - I think living in a different country provides something unique, with the joys and challenges alike serving as part of an invaluable learning experience.
What are your memories of PMF?
I attended some PMF concerts when I was younger. in the summer of 2019, I happened to be visiting Sapporo when a PMF concert was taking place (Mahler: Symphony No. 8).After that concert, I joined the trumpet section for the after-party. I learned that these musicians who had studied abroad and performed so wonderfully were just regular people, like me. This experience intensified my desire to participate in PMF. One person I became particularly close to was Lennard Czakaj from Poland (PMF 2019 Academy, currently principal trumpet of the Staatsorchester Stuttgart). We met again after the Tokyo performance and spent time together. He has since become one of my closest friends. After that, though I kept in touch with Lennard, we didn't have a chance to meet. But in November 2022, by pure chance, we both participated in the same international competition in France. It was a surprise because neither of us had mentioned anything about it to the other! So we had our reunion backstage after three years. Even after the competition ended, we still occasionally message or call each other. It's all thanks to PMF that I met such an inspiring trumpet player and an amazing friend. He and I have talked about how one of our goals is to stand together someday on the PMF stage as artists.