HOME > PMF Academy Members > Horn > Lauren Anker
Academy
Horn
Lauren Anker
USA
Canadian National Arts Centre Orchestraas of March, 2022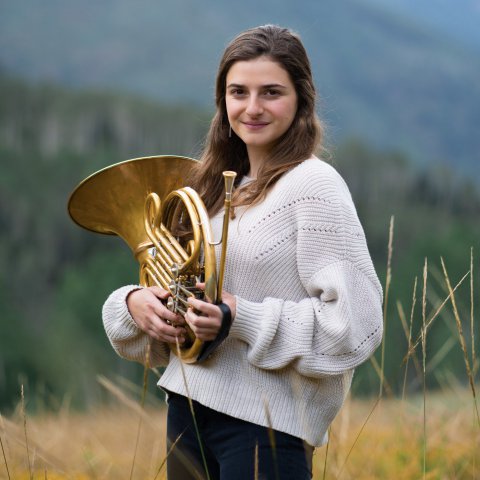 Message (as an Academy member) to PMF supporters
What are you looking forward to about PMF?
Working with Sarah Willis and Bill Caballero, and other faculty/guest conductors. Playing with some exceptional international young musicians. Seeing Japan and eating all the FOOD.
What would you like to say to fans and supporters of PMF?
I'm so grateful to be welcomed into your beautiful country for this opportunity! Thank you for supporting the arts, and for supporting the international spirit of PMF. It is truly an honor and a privilege to be here this summer!
【After PMF 2022】How was the experience of PMF2022
PMF is an exceptional festival because it truly and genuinely embodies a core belief--that music and the arts can bridge communities, connect across international borders, and unify through language barriers. This was incredibly powerful and special for me to witness first-hand and to be a part of; to make music with young musicians from all over the world, to be the minority in how many languages I could speak (only 1!), and to make great music by Brahms, Prokofiev, and Beethoven with people from vastly different backgrounds and circumstances was unique and invaluable for my growth as a musician and as a world-citizen. To be able to work with musicians from the Berlin Philharmonic (my celebrities!) and Sarah Willis, an internationally recognized orchestral horn player/soloist/general humanitarian-through-music was all surreal and incredibly inspiring. Playing in a section with, and closely befriending, a Cuban as an American, while in Japan, felt wildly fateful and beautifully larger than life in many ways. Working with world-class conductors like Lahav Shani and Ken David-Masur was invaluable. To be welcomed by the citizens of Sapporo in 2022, as the world navigates through the new realities of life with Covid, was so appreciated. That this community values international unity through the means of music education is inspiring and reassuring to the future of the arts and the students like me that were so lucky to have been touched by this program. This was such an important and special three weeks to me, I am eternally grateful to all who make it possible!
【After PMF 2022】Do you have any new dream or goal now after the festival?
PMF has opened the door to me venturing beyond the comfort of my English-dominated borders, and has introduced the possibilities of moving to a foreign country to pursue artistic aims that I simply had not investigated before. I am excited to embark on venturing outside my comfort zone in this way, and am drawing inspiration from the young musicians and teacher/performers I met at this festival. I never would have dreamed of this as a reality just a month ago, but PMF's mission absolutely has inspired me to challenge my current path, and I'm incredibly excited (and only a little terrified) to see where it takes me!