Maestro Gergiev and PMF
An introduction to the path shared by Gergiev and PMF to this point
PMF 2004 

First Appearance with PMF
"I heard about PMF from Bernstein. It's quite a wonderful idea. I am very interested."

In rehearsal, Gergiev referred to the Russian history implicit in the music and offered his own thoughts on the composers, and through his passionate conducting the Academy developed a richer and richer sound. July 30th, Sapporo Concert Hall Kitara: the sold-out house, full of listeners having eagerly awaited Gergiev's appearance, lavished their applause on this tensely powerful performance.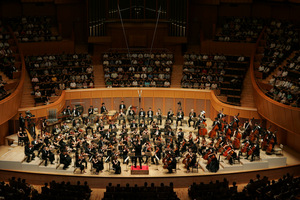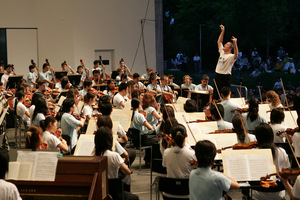 After the final performance in Tokyo, Gergiev honored the Academy, saying, "We are very proud of our young orchestra. I speak for everyone" and "I will insist forever that this PMF Orchestra... had a great voice, and had a great artistry and energy when we played. Every time was incredible."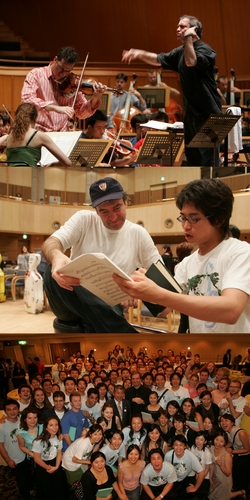 [Artists]
Valery Gergiev, conductor
Nikolaj Znaider, violin*
PMF Orchestra
[Program]
Tchaikovsky: Violin Concerto in D major Op. 35*
Shostakovich: Symphony No. 11 in g minor Op. 103 "The Year 1905"
[Venue]
Sapporo Concert Hall Kitara (July 30)
Sapporo Art Park Outdoor Stage (July 31)
The Symphony Hall, Osaka (August 3)
Suntory Hall, Tokyo (August 4)


PMF 2006 

The Anticipated Return to PMF
Prior to this appearance, Gergiev expressed his desire to "impart all he had to the Academy." It was the 250th anniversary of Mozart's birth, and PMF featured many of Mozart's works, including the Bassoon Concerto on Gergiev's program, which featured PMF alumnus and faculty member Daniel Matsukawa (Philadelphia Orchestra) as soloist with the PMF Orchestra, in a highly praised performance. The Academy also was amazed by Gergiev as he conducted Stravinsky's "Petrushka" and Tchaikovsky's Symphony No. 5 (both Gergiev specialties). As put by one Academy member, "Through the highly energetic rehearsal process, the orchestra's sound became more and more dynamic." All five performances during his stay, including the tour, were to sold-out houses, garnering praise in each and every location.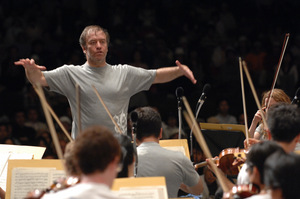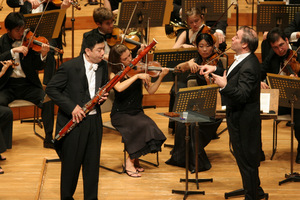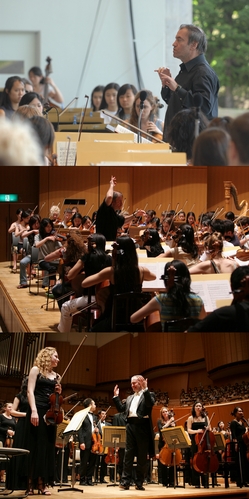 [Artists]
Valery Gergiev, conductor
Daniel Matsukawa, bassoon*
PMF AMERICA
PMF Orchestra
[Program]
Mozart: Bassoon Concerto in B flat major K. 191 (186e)*
Stravinsky: Petrouchka (1947 Version)
Tchaikovsky: Symphony No. 5 in e minor Op 64
[Venue]
Sapporo Concert Hall Kitara (July 29)
Sapporo Art Park Outdoor Stage (July 30)
The Symphony Hall, Osaka (July 31)
Aichi Prefectural Arts Theater Concert Hall, Nagoya (August 2)
Suntory Hall, Tokyo (August 3)
PMF 2015

Inauguration as 6th Artistic Director

As PMF passed the first quarter century since its founding, the 26th implementation was marked with the inauguration of its 6th Artistic Director, Maestro Valery Gergiev. In his inaugural address, he spoke enthusiastically of his primary role being to help young musicians to blossom through better understanding of the intent of the composers whose work they perform, adding, "I believe that the young musicians who participate in [PMF] develop their sense of mutual understanding, and that through music, society itself is improved. This is precisely why I made the decision to become the Artistic Director of PMF." The 4 concerts held in Sapporo, Yokohama, and Tokyo were based on Shostakovich, a specialty of Gergiev's, featuring the Symphony No. 10, and included Dimitry Masleev, first-prize winner of the 2015 International Tchaikovsky Competition, performing Rachmaninoff's Piano Concerto No. 2 with the PMF Orchestra in his Japan debut. After PMF 2015 ended, a video of the concert at Sapporo Concert Hall Kitara was streamed online, proving widely popular all around the world.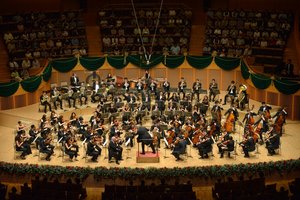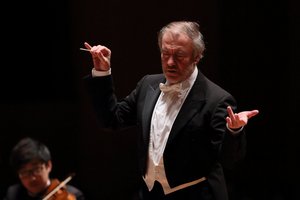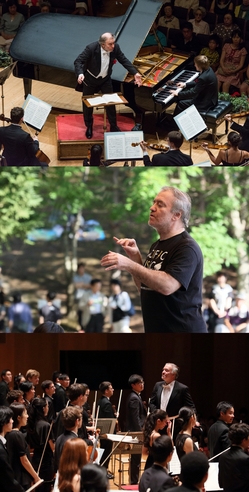 [Artists]
Valery Gergiev, conductor
Dmitri Masleev, piano*
PMF AMERICA
PMF Orchestra
[Program]
Rossini: Overture to "William Tell"
Rachmaninoff: Piano Concerto No. 2 in c minor Op. 18*
Shostakovich: Symphony No. 10 in e minor Op. 93
[Venue]
Sapporo Concert Hall Kitara (August 1)
Sapporo Art Park Outdoor Stage (Augusut 2)
Yokohama Minatomirai Hall (August 3)
Suntory Hall, Tokyo (August 4)