PMF News - Autumn 2020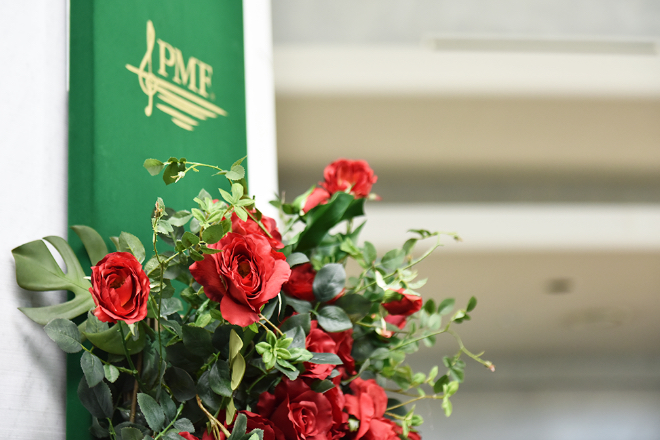 PMF is gradually resuming activities, and working toward reopening the festival in 2021.
Auditions will not be held for PMF 2021
We have decided that auditions for PMF 2021 will not take place, and we have invited the successful applicants who had committed to attending PMF 2020 to take part in the 2021 festival. Details including concert programs, faculty members, and artists are yet to be announced.

PMF Connects LIVE!
PMF resumed public performances for the first time since the cancellation of PMF 2020, starting with a concert on the first weekend of September at Odori Park, a popular outdoor venue in Sapporo. We are currently presenting an ongoing series of $B!H(BPMF Connects LIVE!$B!I(B chamber concerts, at various locations in Sapporo, including SCARTS Court in Sapporo Cultural Arts Theater hitaru, and the historic Hoheikan, one of the oldest buildings still in use Sapporo. This series features PMF alumni performers based in Japan.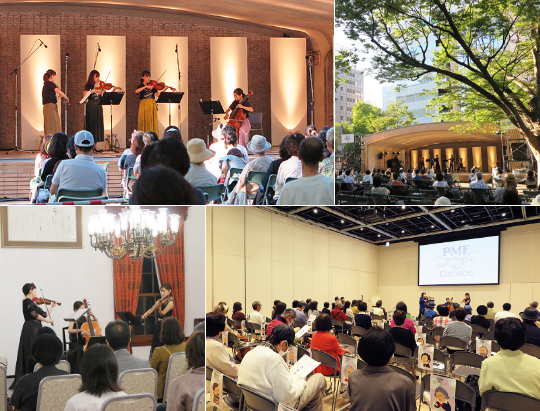 Online streaming of the first Connects LIVE! concert, at Odori Park, is now available at: https://www.pmf.or.jp/en/gallery/movie.html
This concert featured alumni ensembles from the Osaka and Nagoya areas performing for about 400 registered audience members.
PMF in the era of Covid-19
As we proceed with preparations for the festival next year in the midst of the pandemic, the well-being of the performers, audience members, and staff is our utmost priority. We at the Organizing Committee are implementing the following safety protocols at all concert venues:
| | |
| --- | --- |
| | An advance-reservation system, to limit the number of audience members |
| | Maintaining physical distance both among the audience and onstage |
| | Requiring face-masks for audience and staff |
| | Hand-sanitizer spray and temperature checks for everyone upon arrival at venues |
We will continue to update our safety protocols in line with Japanese government guidelines, and will provide all updated information to the public in a timely manner.
The PMF Connects LIVE! concert series finally allows us to reach people directly with music and educational content in this unprecedented era. We will continue to present these concerts as we prepare for reopening the festival in 2021!

PMF in need
The drastic impact of the cancellation of PMF 2020 unfortunately still looms large, and we have yet to secure the funds needed to maintain the festival$B!G(Bs musical and educational standards. We believe that the arts represent an important aspect of society, and we are truly grateful for the ongoing support from individuals, corporations, and varied organizations around the globe that allows us to continue bringing music into people$B!G(Bs lives.