If this email does not display correctly, please click here.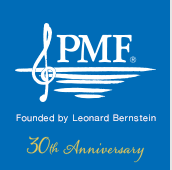 PMF 2020 auditions have begun!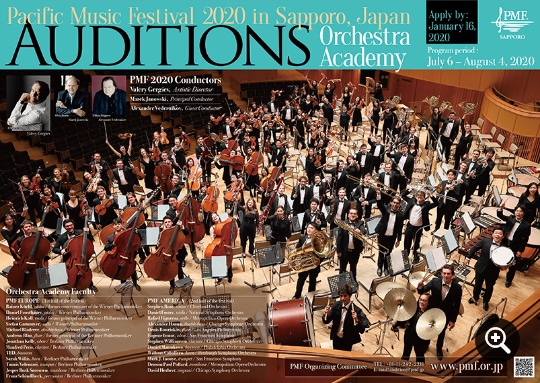 As of November 1, auditions for PMF 2020 are now being accepted!
Auditions take place online, via $B!H(BAcceptd

,$B!I(B allowing young musicians to apply from anywhere in the world with an internet connection. All requirements, guidelines, and more are available on the Audition information page.
Applications will be accepted through January 16, 2020!

Look back on various moments from PMF 2019, both onstage and off, with the newly released PMF 2019 Photo Gallery!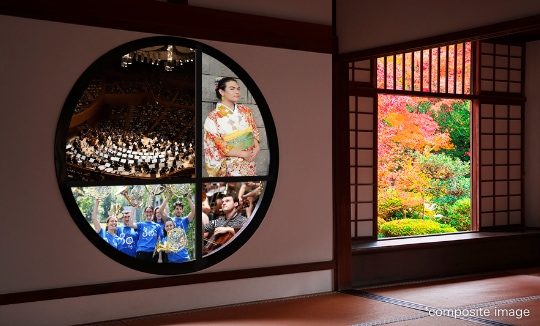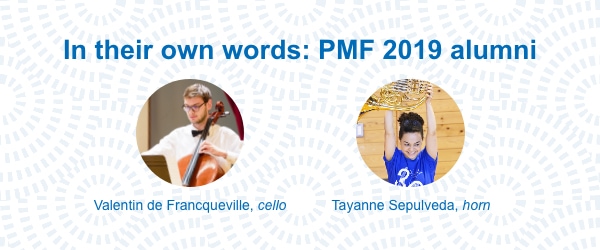 We asked some young musicians from the 2019 Academy about their PMF experience. Here is what they had to say.
What are your thoughts on having participated in PMF?
| | |
| --- | --- |
| | To take part in this festival was a dream for me, and such a great honor. I'm proud that I did it and I realize now how it's a beautiful and an important experience in my artistic and human life. |
I come from a poor community in São Paulo, and I learned music at an institution (Baccarelli Institute) that serves young people in that region. During the period at this Institution, my teachers taught that the music could take me anywhere in the world, and this thought always guided my steps. And one of the steps was to participate in a big international festival that would serve many young people from different parts of the world. When I first heard about PMF, I was sure it was this festival I wanted to do.
In this year 2019, I experienced the most incredible moments in my career to be part the PMF team, and I also believe for the other participants.
So many young people from different countries, languages, cultures and schools, but only for the purpose of making the best music for the Japanese audience.
One point that I like so much about PMF is the participants have the opportunity to play alongside the coaches, in addition to being able to experience both European and American schools. Believe me, this is very enriching for us students, because regardless of language and the school each one have, the sound result should be only one.
How did you approach the audition process?
| | |
| --- | --- |
| | Like every audition, I worked hard and I took time in order to prepare it as well as possible. I did trials on the day before I made recording. Because audition is an exercise totally different than playing in orchestra, we need to be used to it. |
| | |
| --- | --- |
| It was many days of preparation, and many hours of recording to get the perfect take for audition. I remember when I saw the post for PMF, I immediately checked the website which was the previous year's audition repertoire, researched several videos of PMF applicants (not just for my instrument), and started preparing. My lessons were just Mozart and excerpts. My first year when I applied to PMF, I called so many friends, schools and churches where I could record the video. Because at that period I lived in Brazil and it was vacation time and the schools and theaters were closed. And I always thought, the recording has to be excellent. | |
What did you learn at PMF?
I learned a lot with conductors, coaches and of course all my collègues and friends inside the academy.
This month of making music together push me to do several things after$B!D(B It gave me motivation to prepare orchestra auditions for a fixed job. It gave me also ideas like the creation of a little music festival in the village where I was born. It's the beginning of the process, but I'm sure there are a lot of beautiful things to do.
| | |
| --- | --- |
| I learned a lot at PMF and not only musically, but culturally and socially. I might add that the coaches always encouraged us to always do our best. The Japanese culture was for me entirely new, and I can say the most polite and respectful people I have ever met (always very receptive). The social point that I want to mention is about visiting a school for special-needs people (with disabilities); in a few hours we can share music with the students, parents, and staff. I think that all PMF participants should visit and play for them. | |
Would you like to participate again?
| | |
| --- | --- |
| | Of course I would love to participate again, especially because my favorite playing is in an opera! And I know it's on the PMF 2020 program! And Japan was an amazing country to be in for one month, and I would love to come again. |
| | |
| --- | --- |
| Of course! I would like so much to repeat this experience, and to develop my skills! | |