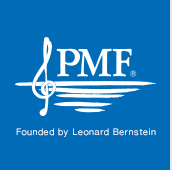 PMF 2017 T-Shirt Giveaway!
As Sapporo finally enters its lovely spring season, this summer$B!G(Bs PMF feels just around the corner. In anticipation of another wonderful festival, we$B!G(Bd like to announce a special limited PMF 2017 T-shirt giveaway!
Simply send an email to musicpartner@pmf.jp with your postal address and shirt size.* Thirty randomly selected respondents will be sent a T-shirt featuring this just-announced design, free of charge!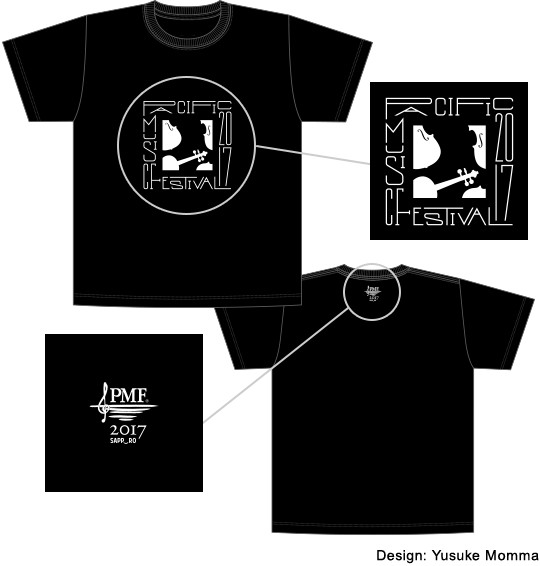 All PMF 2017 participating artists, faculty, and Academy members will receive T-shirts, and they will also be made available for purchase.
Shipping will begin in June, but pre-orders can be made online now!



Around 3,300 young musicians from 76 countries and regions of the world have attended PMF. World Voice is a place for PMF alumni to share their thoughts on the festival's past, present, and future.
What was your impression of PMF when you passed the audition and attended the event as an Academy member, and what do you remember the most about your time at PMF?
Since the time I heard about the Pacific Music Festival I hoped to be a part of it. Not only because of its international reputation, but most importantly because people related to the festival were, and still are, known for pursuing excellence in the arts.

A quarter-century after the founding of PMF in 1990, there are now around 3,300 alumni worldwide. What impact does PMF have on your current musical life?
I feel extremely fortunate to have been an Academy member. PMF was among the driving forces for my musical and artistic growth, the place responsible for some of the most meaningful friendships I have today; and as a half Japanese PMF was instrumental in discovering my Japanese heritage.
The vigorous orchestral training I experienced at PMF was important in preparing me for the professional world I have since embarked on. I served as a violist for the Orchestre symphonique de Montréal, and am currently a violist at the New York Philharmonic where recently we performed Gustav Mahler's Symphony no.9 under the baton of Bernard Haitink. The very same symphony I first performed as an Academy member at PMF under the baton of the same conductor.

PMF will continue to foster young musicians and offer the inspirational power of music to a broad, global audience, inheriting founder Leonard Bernstein's vision, contributing to the classical music culture of the world, and thereby to world peace. What kind of festival would you like to see it become?
My hope for PMF is to continue to be a source of inspiration and a center of artistic excellence for many generations to come. A place that not only brings musicians from every part of the world together with the scope of becoming better musicians, but also to be a transformative bridge between the Eastern and Western cultures.
Rémi Pelletier
Rémi Pelletier joined the New York Philharmonic$B!G(Bs viola section in 2013, after serving as a regular substitute with the Philadelphia Orchestra, performing with the Haddonfield Symphony and Orchestre Métropolitain du Grand Montréal, and serving as a member of the Montreal Symphony Orchestra. Pelletier was guest principal viola of the International Orchestra of Italy in the summers of 2011 and 2012, principal viola of the Pacific Music Festival Orchestra, and assistant principal of the New York String Orchestra Seminar. He is also an active and award-winning chamber musician, with accolades including the CBC/McGill Music Award (2003) and first prize at the Concours du Québec and Canada$B!G(Bs National Music Festival Competition.
A native of Québec, Pelletier was a scholarship recipient at the Encore School for Strings and the Orford Arts Centre. In addition to attending master classes with Kim Kashkashian, Roberto Diaz, and others, Pelletier studied with Michael Tree and Joseph De Pasquale at the Curtis Institute of Music, and with André Roy at McGill University, from which he graduated with the distinction of Outstanding Achievement in Viola Performance and where he was principal viola of the McGill Symphony Orchestra.
Other interests
Yoga, meditation, cooking, reading, travelling, spending time with friends and family, photography, learning new dances, and cinema

PMF Online Box Office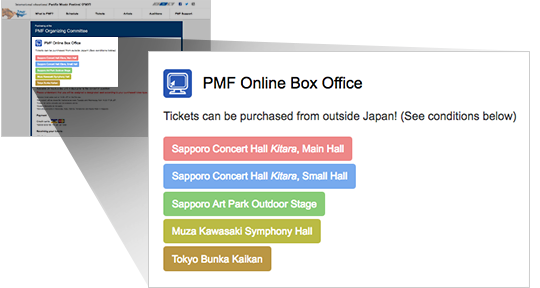 The PMF Online Box Office was created to accommodate listeners who attend PMF concerts from outside Japan. This system is in English and it allows for advance payment by credit card before claiming tickets in person on the day of the concert.
Ticket sales begin on April 29! Make reservations with a PC or smart-phone any time, from anywhere in the world! See the Purchasing Tickets page for details, including terms and conditions.