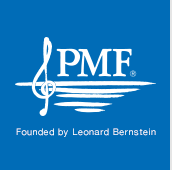 PMF On Demand, installments 2 & 3
~ Experience the orchestra$B!G(Bs musical evolution in high definition video! ~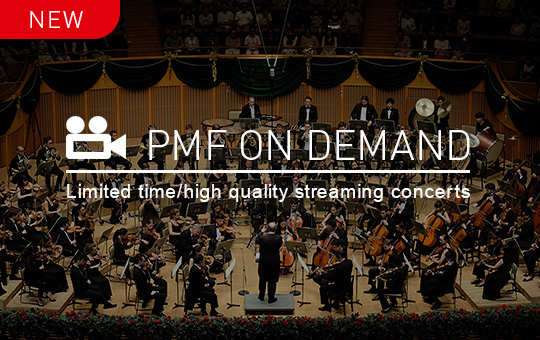 The PMF Orchestra, comprised of members with different nationalities, languages, and backgrounds, with an average age of 24, get to know each other in the span of 1 short month and come together musically as one, consistently providing inspiration to all who attend. Now you can experience the PMF Orchestra$B!G(Bs musical evolution on PMF On Demand!

Following last month$B!G(Bs release of <Program A> in HD audio, the 2nd and 3rd installments to appear are the PMF 2016 Opening Concert $B!](B held at the Sapporo Art Park Outdoor Stage, where the very first PMF concert took place $B!](B and <Program C> (Part 2 of the GALA Concert) led by Valery Gergiev, both in HD video!
Listening to the orchestra$B!G(Bs first program $B!](B only 5 days after their arrival $B!](B and then their last, their musical evolution becomes clear. Enjoy this expression of the spirit of this international educational music festival!


Photo Gallery
~ The PMF 2016 story captured in photos ~
The Photo Gallery on the official website has been updated, with various fleeting moments captured during the festival, featuring Academy members and artists alike.
These photographic treasures present the lively expressions and atmosphere of their subjects in such a way that their music almost seems audible. Enjoy the story of PMF 2016 as can only be told through photographs; take a look!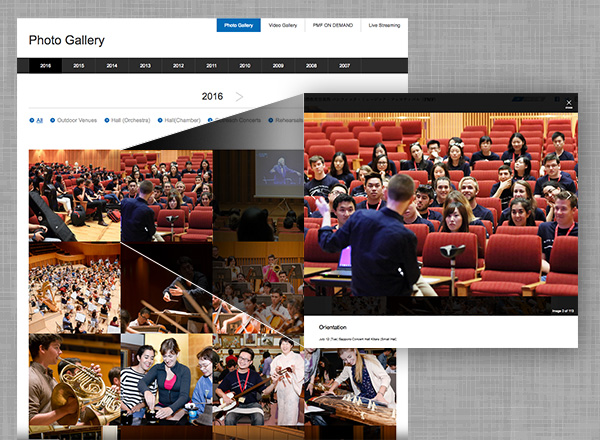 | | |
| --- | --- |
| Created in December of 2015, PMF$B!G(Bs Instagram account also offers fascinating photographic moments, including many from rehearsals, off-time, and past-PMFs. Enjoy even more photographic treasures of PMF on Instagram! | |


PMF 2016 Official Support (individual donations) - Interim Report
~ Providing necessities to the orchestra ~
With the goal of supporting the educational needs of the young musicians who study at PMF, we solicited individual donations through PMF Official Support (in 1000-yen units) once again this year. As a result, a total of 2,532,000 yen in individual donations was given, which helped to ensure that the PMF Orchestra had the scores and instruments necessary for both rehearsals and concerts.
We are truly grateful to all who offered your generous support to the musical activities of the Academy!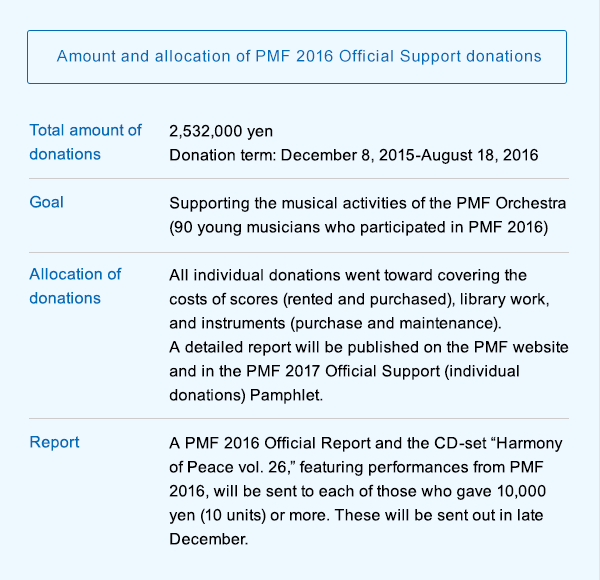 Around 3,300 young musicians from 76 countries and regions of the world have attended PMF. This is an opportunity for PMF alumni to share their thoughts on the festival's past, present and future.
What was your impression of PMF when you passed the audition and attended the event as an Academy member, and what do you remember the most about your time at PMF?
Participating in the music festival in my home-prefecture of Hokkaido that I had admired for so long was an almost overwhelming experience. I am thankful for the fulfilling time I was able to spend with peers from all over the world who gathered in Sapporo with music as our point of connection. Of course, I learned much from the conductors and faculty, but living together with people of other nationalities and cultures for a month really broadened my perspective.

A quarter-century after the founding of PMF in 1990, there are around 3,300 alumni worldwide. What impact does PMF have on your current musical life?
I love to travel. I spend as much time as possible doing so, and yet almost everywhere I go in the world I am able to find friends from PMF. What an amazing experience to have friends literally all over the world! It is very rewarding to spend time catching up with their lives.

PMF will continue to foster young musicians and offer the inspirational power of music to a broad, global audience, inheriting founder Leonard Bernstein's vision, contributing to the classical music culture of the world, and thereby to world peace. What kind of festival would you like to see it become?
I hope it will be a music festival focused on what is most important for the students at this point. The music to be performed, the artists, the curriculum: if all are based on current needs, I believe it will become an even more enriching place of study. I genuinely hope that PMF will continue to get better and better!
Takuya Takashima
Born in Kushiro, Hokkaido, Takuya Takashima graduated from the Music Course of the Arts and Culture Program at Hokkaido University of Education in Sapporo. He studied oboe with Mr. Jouko Teikari at Finland$B!G(Bs Sibelius Academy for 1 year as an exchange student through said university in 2000. That same year, he won first place in the Lahti National Woodwind Competition$B!G(Bs oboe category. After graduating in 2001 he joined the Turku Philharmonic Orchestra and entered the Sibelius Academy. He was a PMF Academy member in 2000, 2003, and 2004 before serving as a PMF Orchestra/Academy manager from 2005-2013. He is currently Principal Oboist of the Turku Philharmonic Orchestra.
Other interests$B!!(BTraveling and cooking