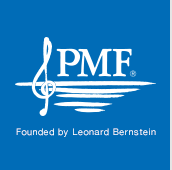 With the August 9 PMF Orchestra Concert in Tokyo, PMF 2016, the festival$B!G(Bs 27th implementation since its founding, was brought to a successful close.
To each supporting company and organization, to all members of PMF Friends who show their generous support as fans, to those who give individual contributions through PMF Official Support, which go toward the purchase of educational materials used by the PMF Orchestra, to the volunteers whose work is outshone only by their smiles, and to each and every person who took the time to attend concerts and experience performances by the PMF Academy, we thank you all from the bottom of our hearts.
Moving forward, PMF is committed to continuing to pass on the vision and passion of founder Leonard Bernstein in order to foster young musicians, to contribute to the further spread and development of classical music, and to progress toward the next great milestone, PMF$B!G(Bs 30th anniversary. We sincerely hope for your continued support.

Pacific Music Festival Organizing Committee


Messages from the Academy
The 90-member Academy Orchestra gathered in Sapporo on July 11, hailing from 27 countries and regions. After a month of intensive study, learning through rehearsal and performance and making great strides in their development, the PMF Orchestra gave a brilliant performance to a full Suntory Hall. After this successful finale to PMF 2016, we asked 5 members of the Academy to address the supporters who made their experiences possible:
What message do you have for all those who financially supported your musical activities at PMF 2016, including the many sponsoring companies, members of the PMF-supporting group $B!H(BPMF Friends,$B!I(B and those who gave individual donations?
Allison Drenkow, cello
United States, New England Conservatory

I have been profoundly affected by my summer with PMF, not only as a musician, but as a person. To be treated as a colleague by musicians from the absolute best orchestras in the world and to get to collaborate with them in concert is the best inspiration and encouragement I could ask for as I strive to enter that stage in my career. To have the immense support of PMF's financial sponsors and donors, as well as that of the audiences we encountered in Japan has instilled in me a new enthusiasm to perform with higher standards and more passion than ever before. Thank you all!
Darío Portillo Gavarre, flute
Mexico, Conservatoire National Supérieur de Musique et Danse de Paris

You have supported something really special: art, music, one of the things that makes us really human and can join us together. For me, PMF was an extraordinary and enriching experience that I will remember all my life, and I know that it wouldn't be possible without your support. Thank you so much for making it possible!
Friederike Bassek, oboe
Germany, Codarts Hogeschool voor de Kunsten

I would like to thank you for your great support that you do for the Pacific Music Festival. As a musician it is unbelievable what work and commitment you put into this great project. Personally it was one of the best experiences of my life: travelling to Japan, meeting such great people from all over the world, playing and working with some of the best musicians on the planet and being hosted in an incredible kind and welcoming way was a big pleasure to me. Thank you from the bottom of my heart for this amazing experience, I really hope that PMF is going to continue in this fantastic way!
The magic that happens during the concerts when everybody creates one big thing together would not be possible without your support.
Miki Horatani, bassoon
Japan, Toho Gakuen College

I am deeply grateful to the many people who offered their support, allowing us to study in this wonderful environment. I learned so much from the conductors and world-class faculty, and developed relationships with high-level peers from around the world; there are no words to express how precious these experiences are to me.
I will now do my best to fulfill my own responsibility to connect these experiences to my future path, with continuing gratitude to those whose support, preparation, and attendance at concerts allowed us to take the stage.
Alexander Oon, horn
Singapore, Royal College of Music

To everyone who sponsored PMF in one way or another, I thank you from the bottom of my heart. As a performer, we are no one without you, our audience. Please continue this gracious support for PMF, as your generosity goes a long way.

Online high-definition audio on PMF ON DEMAND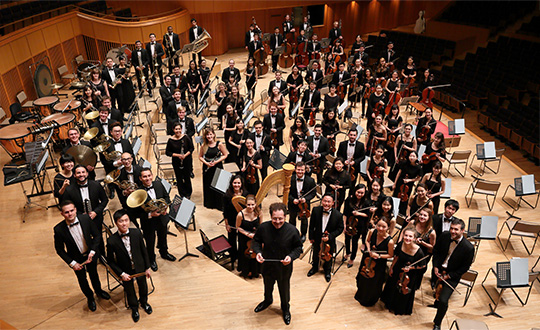 The first media content from PMF 2016 is now available online on PMF ON DEMAND! Hear the PMF Orchestra Concert <Program A> in high definition audio, with a sampling rate well over 50 times that of CD audio - a sound of truly rare quality.
| | |
| --- | --- |
| PRIMESEAT, a high-definition streaming service, allows you to feel as if you are actually present in Sapporo Concert Hall Kitara. Feel the presence of the conductor, hear the orchestra breathe together, and enjoy a new kind of listening experience, all from your own $B!H(Bprime seat.$B!I(B | |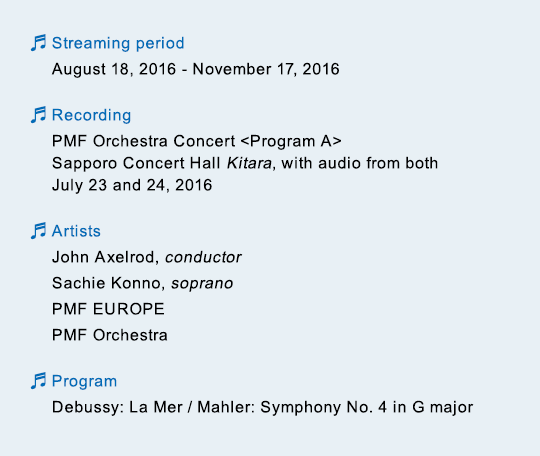 Seeking partnerships with music festivals
in Russia and South Korea:
a conference with Artistic Director Valery Gergiev
World-famous conductor Valery Gergiev, PMF$B!G(Bs 6th Artistic Director, gave a conference on Tuesday, August 9 in central Tokyo during which he stated his goal of creating partnerships with music festivals in Russia and South Korea. Specifically, he plans to create a collaboration among the International Mariinsky Far East Festival in Vladivostok, which was just formed this summer, the PyeongChang Music Festival & School, held in Pyeongchang (host of the 2018 Winter Olympics), and PMF.
He said, $B!H(BIf these 3 music festivals join hands, we have an opportunity to widely introduce wonderful artists of the Asian Pacific. These regions are neighbors, and young artists should move among them.$B!I(B He also expressed his continuing desire to educate the young musicians who will themselves become the next generation of classical music.
With this vision in mind, the PMF Organizing Committee has requested that Maestro Gergiev extend his term as Artistic Director through 2020. Keep an eye out for further developments!