The PMF 2016 T-Shirt
The design for the PMF 2016 T-shirt, to be worn by participating artists, Academy members, and staff, has been released!
The "under the baton" design evokes PMF-founder Leonard Bernstein's vision for musical education - a core principle of the festival - being passed on through Valery Gergiev and John Axelrod. What Axelrod and Gergiev pass on to the young musicians under their batons at PMF 2016 is sure to inspire both performers and audience alike.
The simplicity of the design, by Sapporo-based graphic designer and art director Mr. Yusuke Momma, makes for perfect summer attire on its own, indoor or outdoor, and even looks nice with a cardigan or jacket.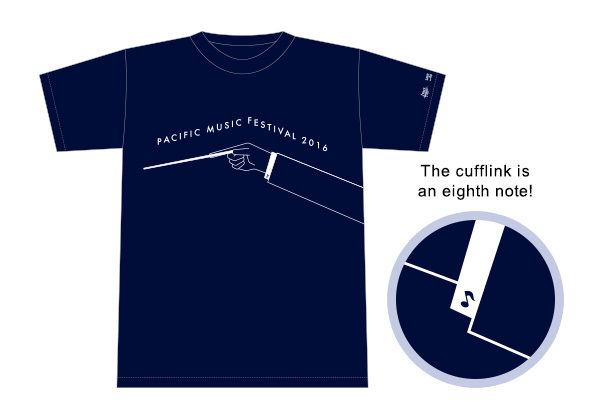 Order online through the PMF website!
Shipping begins on Friday, July 1.
*T-shirts will also be available at the Kitara Shop in Sapporo Concert Hall Kitara, starting on Saturday, July 2.

Special limited-time ticket packages through ACT NOW
The PMF Orchestra is made up of young musicians from all over the world selected through auditions. With their vibrant, youthful energy, these passionate musicians create a fresh sound every year that never fails to inspire.
Now 2 new projects, developed by Hokkaido-based crowdfunding service ACT NOW, have been developed with the aim of introducing a broader segment of people to the PMF Orchestra and the joys of classical music. For a limited time, receive complimentary items along with tickets to PMF concerts! A ticket for the Picnic Concert comes with a PMF T-shirt and 1 Kirin Namacha green tea, and a ticket for the Bernstein Legacy Concert comes with a Marumi Coffee coupon, a free pass to an Open Rehearsal, and 2 PMF CDs!
Availability is limited: Act now!