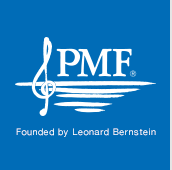 Bernstein Heir and PMF 2016 Principal Conductor John Axelrod
American conductor John Axelrod, who like Bernstein graduated from the prestigious Harvard University, studied conducting with both Bernstein and Ilya Musin (who was also a teacher of PMF Artistic Director Valery Gergiev). Axelrod will participate in PMF for the first time, as Principal Conductor.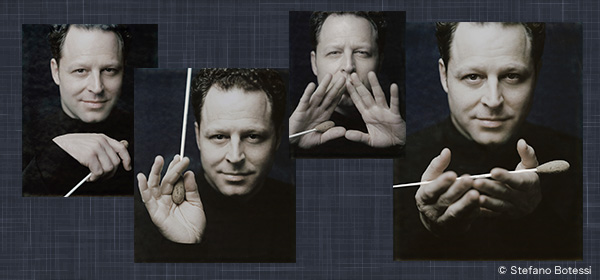 Axelrod, who serves as Musical Director of the Real Orquesta Sinfónica de Sevilla and Principal Conductor of the Orchestra Sinfonica di Milano Giuseppe Verdi, is known for his wide-ranging repertoire, innovative programming, and charismatic conducting style, and is constantly sought after by orchestras around the world. To this point he has conducted over 150 orchestras, including the Leipzig Gewandhaus Orchestra, the Orchestre de Paris, the Philadelphia Orchestra, the Chicago Symphony Orchestra, and the NHK Symphony Orchestra.
Anticipation is building around Principal Conductor Axelrod's performances with the PMF Orchestra of symphonies of Mahler and Brahms during the first half of PMF 2016.

Axelrod is also a food connoisseur. His blog AUTENTICO ITALIANO features his own reviews of Italian restaurants and wines all over the world outside Italy.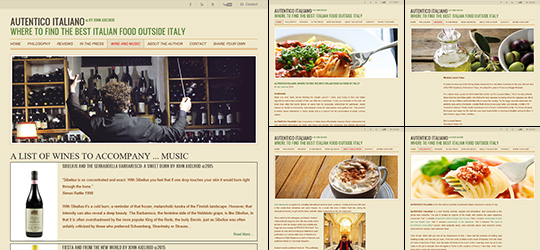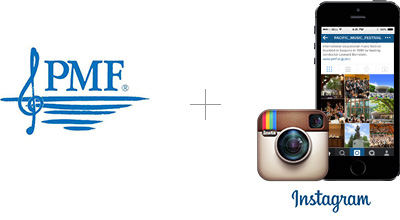 PMF on Instagram
As of this month, PMF has begun using Instagram, a social networking service (SNS) for sharing photos. Watch for photos of various fun and fascinating moments from the festival!

The PMF official website now includes an automatic translation feature, allowing any page to be automatically translated into Italian, Spanish, German, French, Portuguese, Russian, Chinese (Traditional and Simplified), and Korean, in addition to the official English and Japanese versions.


A New PMF Introductory Pamphlet
A new pamphlet with an outline of the content and future goals of the international educational Pacific Music Festival is now available. The cover design features a watercolor-textured design of four Academy members surrounding the PMF Orchestra and the Bernstein Statue at Leonard Bernstein Place - established on PMF's 25th anniversary - in honor of the founder.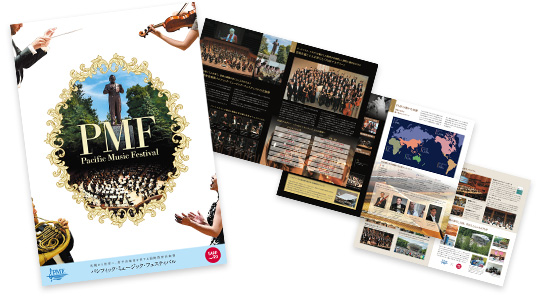 Over 3,200 young musicians from 74 countries and regions of the world have attended PMF. This is an opportunity for PMF alumni to share their thoughts on the festival's past, present and future.
What was your impression of PMF when you passed the audition and attended the event as an Academy member, and what do you remember the most about your time at PMF?


It is very difficult to pick one or just a few of the dearest or the most powerful memories but a few things have remained just as vivid as it happened today. First of all, arriving to Japan to Narita Airport for the very first time and being greeted by Tom Novak and Shinji Kawamoto by my name at first sight really made my jaw drop. It was an overwhelming feeling of belonging so I thought $B!F(BThis is it, here we are, this is a dream come true'.
Another powerful image is Maestro Christoph Eschenbach walking into our rehearsal of Dvořák's Serenade for winds. We played in this small rehearsal container back in 1994 in Art Park. He popped the score opened, just set on a table with the score in one hand and even before he raised his hand to conduct the world changed in a blink of an eye. We became the real thing just as a magician would turn us from younglings to pros. The concert literally rocked my world.

A quarter-century after the founding of PMF in 1990, there are over 3,200 alumni worldwide. What impact does PMF have on your current musical life?


First of all there are friendships, connections with colleagues all over the globe and there is the THING. The THING that no matter where you go you will find PMF alumni and feel as if you were a great team, as if you spoke the same language, as if you grew up together. And in a sense you did. I can meet Denise Tryon from the Philadelphia Orchestra or Nicki Cash from the San Francisco Symphony and feel like no time has passed$B!D(B That is an incredible connection.

PMF will continue to foster young musicians and offer the inspirational power of music to a broad, global audience, inheriting founder Leonard Bernstein's vision, contributing to the classical music culture of the world, and thereby to world peace. What kind of festival would you like to see it become?


I would love to see PMF on tour in Europe, in South America, in the US not only with concerts but also with education projects. Imagine the effect of young, talented, and awesome musicians from all over the globe visiting schools, playing great music together, meeting kids and passing on the message: no matter where you come from, no matter who you are, we can do this together$B!D(B


An additional note

I was fortunate to be able to take part in PMF 1994 with a beautiful, breathtaking and amazing violinist Orsolya Korcsolan, who became my wife seven years later. We now live in Vienna, and besides her international concert activity and recording career she has created a private music institution, $B!F(BMusikschule in Wien im Palais Palffy' and we have a fantastic son Natan who is just turning ten, a pretty hard working cellist and pianist and a future fencing champion. ;-) Hopefully he will become a PMF member one day$B!D(B
Gergely Sugar
Gergely Sugar is a horn player with the prestigious Vienna Symphony Orchestra and a professor at the University of Music and Performing Arts Graz, Austria, where he is the successor of Günther Högner who was his coach at PMF in 1994 and 1996.
In addition, Gergely has been the director of the recording company of the Vienna Symphony and its label $B!F(BVS' for five years, serving also as President of the Vienna Symphony Society. A PMF member between 1994 and 1997, Gergely had the amazing opportunity to work with Maestro Christoph Eschenbach, Maestro Michael Tilson Thomas, and Maestro Yutaka Sado, experiences that had an immense impact on his professional career.
Born and raised in Budapest, Gergely studied music in Vienna, Budapest and Graz before becoming a member of the Budapest Festival Orchestra, the Vienna Symphony Orchestra, and the Malaysian Philharmonic Orchestra.
As conductor of the $B!F(BKammerphilharmonie der Wiener Symphoniker,' horn player, and music educator, Gergely enjoys a busy career in the heart of Vienna.
Other interests
I try to spend as much time as possible with my family, with my loved ones. In the remaining spare moments I love to walk the town and (try) to get lost in Vienna. I enjoy the city's thousand coffeehouses and bookstores, skating in Stadtpark, and skiing the beautiful slopes of Austria.
This email is sent to registered users of PMF Online Services.
$B!|(BTo change registered account information or unsubscribe, log in at https://yyk1.ka-ruku.com/pmf-s/
$B!|(BFeel free to contact musicpartner@pmf.jp with questions or comments concerning this email service.
Pacific Music Festival Organizing Committee

http://www.pmf.or.jp/en/
Sumitomo Seimei Sapporo Chuo Bldg. 1F 1-14, Minami 2 jo, Higashi 1 chome,
Chuo-ku Sapporo 060-0052
TEL :+81-11-242-2211$B!!(B FAX :+81-11-242-1687