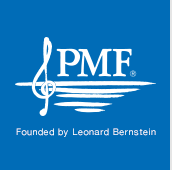 The Pacific Music Festival (PMF) is an international educational music festival founded by leading 20th century conductor and composer Leonard Bernstein.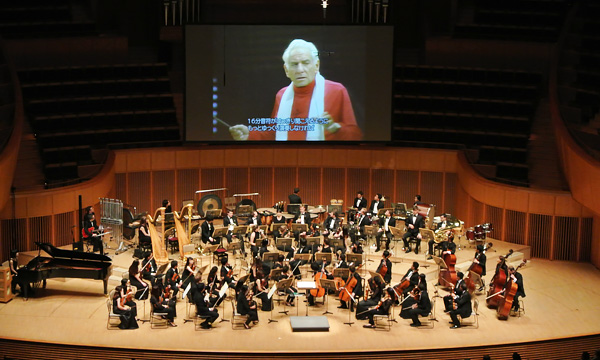 The primary focus of PMF is the Academy, made up of young musicians selected through auditions. For about one month, from July to August, they receive instruction from a world-class faculty including Artistic Director Valery Gergiev, members of the Wiener Philharmoniker, the Berliner Philharmoniker, and more, and perform together as the PMF Orchestra.
The "Pacific" of the festival's title refers not only to geography, but also to the festival's core principle of "peace."

The experience of coming together at PMF as a single orchestra while being spurred on by peers, all striving for the best possible performance, is a major contribution to each Academy member's musical development, and one that helps them to realize the preciousness of being in harmony with each other, transcending nationalities and language barriers, and the importance of world peace.
Since its founding in 1990, fostering young musicians through music and sharing the joy of musical inspiration with the world has been PMF's unwavering refrain.


Have you seen the official PMF Facebook page?
| | |
| --- | --- |
| Nearly 3,500 people "like" the official PMF Facebook page, which was established in 2011. Primarily making use of photos, the page offers various moments from the festival, including performers' vivid expressions and more, serving as an ever-expanding PMF photo album. Keep up to date through an entirely different channel from PMF MUSIC PARTNER; take a look! | |


PMF Alumni Throughout the World
From 1990 to 2015, over 3,200 young musicians from 74 countries and regions passed auditions and participated in PMF: enough to comprise over thirty 100-member orchestras! PMF alumni are presently active as performers in over 200 orchestras in various countries and regions, spreading more and more widely throughout the classical music world.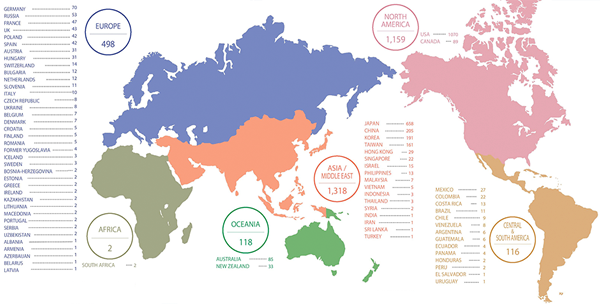 Over 3,200 young musicians from 74 countries and regions of the world have attended PMF. This is an opportunity for PMF alumni to share their thoughts on the festival's past, present and future.
Mayumi Shimizu, Trombone (PMF 2006, 07)
JAPAN
Principal Trombonist
Southwest German Radio (SWR) Symphony Orchestra
What was your impression of PMF when you passed the audition and attended the event as an Academy member, and what do you remember the most about your time at PMF?


It was an amazing experience to be able to perform as a principal under the batons of Maestro Gergiev in 2006 and Maestro Muti in 2007. I attended twice, but really it was the first year, when everything was fresh and new, that left the strongest impression in terms of the program, ensembles, and faculty. Also, each member of the trombone section was an excellent performer, which made for a truly stimulating experience.

A quarter-century after the founding of PMF in 1990, there are over 3,200 alumni worldwide. What impact does PMF have on your current musical life?


I think PMF's strength is in providing a truly international experience on the stage that is Japan. I myself was raised in Japan and am presently performing in Europe and based in Germany, so it was fascinating for me to be able to interact with people active in America. The reverse is surely also true for them, and I think that peers with such varied backgrounds gathering together is an excellent learning opportunity for all involved. And the explosive energy of a youth orchestra is a unique and very special thing that cannot be felt anywhere else. It was a happy, fulfilling time, full of once-in-a-lifetime encounters and experiences.

PMF will continue to foster young musicians and offer the inspirational power of music to a broad, global audience, inheriting founder Leonard Bernstein's vision, contributing to the classical music culture of the world, and thereby to world peace. What kind of festival would you like to see it become?


I hope that it continues to be a wonderful festival that provides people with inspiration and hope.
Mayumi Shimuzu
Born in Kawasaki, Mayumi Shimizu began playing the trombone at age ten. She earned her bachelor's degree in applied physics and physico-informatics at Keio University, Tokyo. She decided to pursue trombone studies further during her graduate studies there after spending 6 months studying abroad in Vienna.
She studied at the Freiburg University of Music (Germany) from 2005 to 2010, earning a diploma, and at the Bern University of Music (Switzerland) from 2010 to 2012, earning a master's degree and soloist certificate under Prof. Branimir Slokar. During the same period, from 2007 to 2009, she became the first Japanese trombonist in the Karajan Academy of the Berliner Philharmoniker. In 2009 she became the principal trombonist of the Bruckner Orchestra Linz - the first female principal trombonist in Austria - then moved into the same position in the Southwest German Radio (SWR) Symphony Orchestra in 2012.
Her experience is wide-ranging, including performing with the Berliner Philharmoniker, the Saito Kinen Orchestra, the Bach Collegium Japan, and many more, in addition to being active as a soloist and a chamber musician.
She was a member of the PMF Academy in 2006 and 2007.
Other interests
Tap dancing, cycling (only along the Danube), discovering good restaurants
This email is sent to registered users of PMF Online Services.
$B!|(BTo change registered account information or unsubscribe, log in at https://yyk1.ka-ruku.com/pmf-s/
$B!|(BFeel free to contact musicpartner@pmf.jp with questions or comments concerning this email service.
Pacific Music Festival Organizing Committee

http://www.pmf.or.jp/en/
Sumitomo Seimei Sapporo Chuo Bldg. 1F 1-14, Minami 2 jo, Higashi 1 chome,
Chuo-ku Sapporo 060-0052
TEL :011-242-2211$B!!(B FAX :011-242-1687