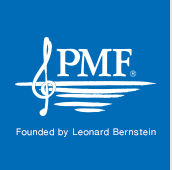 Video and photos looking back on PMF 2015
PMF 2015 was highlighted in a program called Sarah's Music hosted by Sarah Willis, who is a member of the Berliner Philharmoniker and attended the festival as a faculty member of PMF EUROPE. The 12-minute program produced by German broadcaster Deutsche Welle features scenes from the well-attended concert in Odori Park and highlights from the first half of the event such as behind-the-scenes footage taken during breaks from practice. Don't miss it!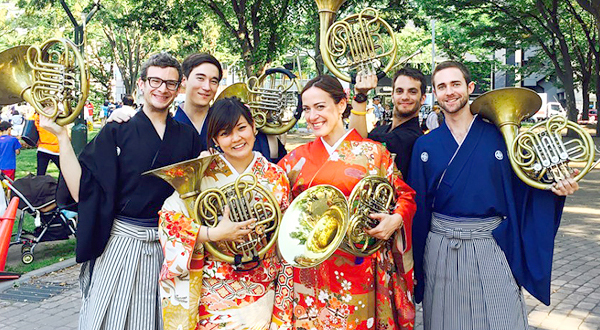 PMF to be aired nationwide on NHK-FM "Best of Classic"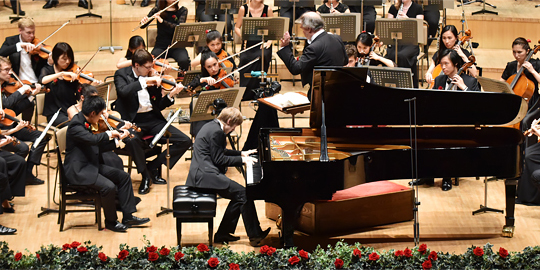 NHK-FM's "Best of Classic" is an established classical music program promoting enjoyment of high-quality concerts worldwide. PMF Orchestra Concert Program C (Part II of the PMF GALA Concert) at Sapporo Concert Hall Kitara on August 1 (Sat) will be aired nationwide on the program.
This concert featured the Japan debut of Dmitry Masleev, first prize winner of the XV International Tchaikovsky Competition (piano) in his first performance of Rachmaninov's Piano Concerto No. 2: a memorable occasion, to be sure!
Enjoy the fresh sounds of young musicians from around the world under Artistic Director Valery Gergiev. Music of this caliber is exclusive to PMF in its role as a distinctive educational music festival.

Artistic Director Valery Gergiev's goals for PMF
| | |
| --- | --- |
| This season, Valery Gergiev assumed the position of the sixth Artistic Director and led the PMF Orchestra. At a press conference on August 2 (Sun) in Sapporo, he shared his thoughts on PMF and his future vision for the festival. Below is a summary of what was said at the conference. | |

Around 3,200 young musicians from 74 countries and regions of the world have attended PMF. This is an opportunity for PMF graduates to share their thoughts on the festival's past, present and future.
Jacob Nissly, percussion (PMF 2004, 05)
USA
Principal Percussionist
San Francisco Symphony
What was your impression of PMF when you passed the audition and attended the event as an Academy member, and what do you remember the most about your time at PMF?


My strongest memory is from 2004 performing the snare drum part to Shostakovich 11 with Valery Gergiev. I remember the orchestra came together so well at our performances in Kitara and Suntory Hall.

A quarter-century after the founding of PMF in 1990, there are around 3,200 alumni worldwide. What impact does PMF have on your current musical life?


PMF was not only my first time playing in a world-class orchestra, but it was also my first time leaving America. Not only do my musical experiences from those two summers (2004 and 2005) stick with me, but I now have friends all over the world as a result. Just last week my orchestra was on tour in Berlin and I ran into another PMF alumnus that I had not seen since 2004.

PMF will continue to foster young musicians and offer the inspirational power of music to a broad, global audience, inheriting founder Leonard Bernstein's vision, contributing to the classical music culture of the world, and thereby to world peace. What kind of festival would you like to see it become?


I hope that PMF continues to strive for the same artistic excellence that it has always represented while concurrently encouraging young musicians from a variety of backgrounds to come together in a short amount of time. Music is a great antidote for language barriers.
Jacob Nissly
Jacob Nissly is the Principal Percussionist of the San Francisco Symphony. Prior to his appointment in San Francisco, Nissly was the Principal Percussionist of the Cleveland Orchestra and of the Detroit Symphony Orchestra. He has performed with the Chicago Symphony Orchestra, Metropolitan Opera, and Houston Symphony. Nissly was an adjunct Professor of Percussion at the Eastman School of Music from 2011-2015. Nissly has taught classes at The Juilliard School, University of Michigan, Indiana University, Northwestern University, Cleveland Institute of Music, and the Verbier Music Camp. He attended in PMF in 2004 and 2005.
Other interests$B!!(BMarathon Running, Reading, Enjoying the beauty of the Bay Area
This email is sent to registered users of PMF Online Services.
$B!|(BTo change registered account information or unsubscribe, log in at https://yyk1.ka-ruku.com/pmf-s/
$B!|(BFeel free to contact musicpartner@pmf.jp with questions or comments concerning this email service.
Pacific Music Festival Organizing Committee

http://www.pmf.or.jp/en/
Sumitomo Seimei Sapporo Chuo Bldg. 1F 1-14, Minami 2 jo, Higashi 1 chome,
Chuo-ku Sapporo 060-0052
TEL :011-242-2211$B!!(B FAX :011-242-1687