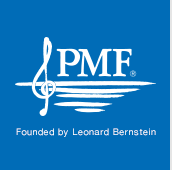 PMF 2015 was brought to its successful conclusion with the August 4 PMF Orchestra Tokyo Concert at Suntory Hall.
The international educational Pacific Music Festival: founded through a passionate outpouring of Maestro Bernstein's vision in the last days of his music-filled life.
Upon this 26th implementation $B!](B the beginning of a new quarter century $B!](B we offer our sincerest gratitude to all of the sponsoring organizations who join with us as we set out anew, to members of PMF Friends, who always lend their gracious support, to PMF Official Support members, whose donations go toward furthering Academy members' musical education, to the volunteers whose smiles never fade as they give of their time, and of course, to all of the fans who attend PMF concerts.
As inheritors of founder Leonard Bernstein's vision, we will continue to do the work of music education only possible through PMF, fostering young musicians and contributing to the classical music culture of the world. We look forward to your support into the future as we continue to bring joy and fresh inspiration to all who attend PMF concerts.
Pacific Music Festival Organizing Committee


A First for PMF!
Free Limited-Time Broadcasts with "PMF On Demand"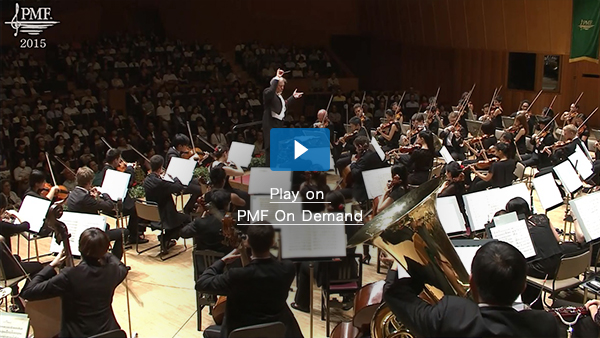 PMF On Demand, a brand new online service bringing PMF concerts to the world, is now available. This service makes use of the highest quality video and audio ever provided by PMF!
Enjoy both Part II of this year's PMF GALA Concert, the PMF Orchestra Concert < Program C > (presented once again to a sold-out audience) conducted by Artistic Director Valery Gergiev, in high-resolution video with crystal clear sound, and the PMF Orchestra Concert < Program B > conducted by Andris Poga, in DSD 5.6 MHz high-definition (HD) audio*, with a sampling rate 128 times that of CD audio!
| | |
| --- | --- |
| PMF On Demand is only available through October 31 (Sat). Experience these striking reproductions of PMF Orchestra concerts made possible with highest-level technology. | |
*

This is part of a series of experimental HD-audio broadcasts by Internet Initiative Japan (IIJ). In order for HD audio to playback, designated software (free) must be installed on your computer, and a USB-type digital-analogue converter (USB DAC) as well as HD-compatible headphones or analogue speakers are required.


On Participating in PMF 2015
$B!A(B Messages from Academy Members $B!A(B
We asked 3 members of the PMF 2015 Orchestra Academy to contribute their thoughts to supporters of the festival by answering the following questions:
1. What are some of your impressions of PMF 2015?
2. PMF is supported by sponsoring companies, members of PMF Friends, purchasers of concert tickets, and more. What message do you have for them?
Prapat Prateepphleepon (bass trombone)
Thailand, Roosevelt University

1. I have so many impressions of PMF 2015! I met so many great musicians and made new friends from all over the world. Because of the tough repertoire and the tight schedule, everyone had to work really hard to create the best performances possible. The level of unity we experienced was really impressive. And working with different conductors was really helpful for me. They represent incredible methods of interpreting music, and I learned so much from each of them. I will carry all of these great experiences in my mind forever.

2. It is my pleasure to say THANK YOU to all supporters of PMF for creating these opportunities for students. I really appreciate and am grateful for everything you contribute.
Max Tan (violin)
USA, Harvard University

1. PMF is one of the most intense festivals that I have attended. It mirrors the schedule cycle of a professional orchestra, and brings together phenomenal faculty from world-class orchestras. The music-making is fantastic and the peers and colleagues we get to meet from all over the world are the biggest source of inspiration. The orchestra became a close-knit family by the end of the program, and we made many friendships that are sure to last a lifetime.

2. Supporting PMF is more than simply supporting a Classical music festival. It changes the lives of talented young musicians who then take the stand to change the world in their professional endeavors. Supporting Classical music and PMF concerts is a way to become enrolled in the art form, and to be part of a spiritual experience to which all human beings can relate. In short, the PMF Academy is a seed for beautiful change in the world of tomorrow.
Miki Nagahara (violin)
USA/Japan, Northwestern University

1. The manner in which the faculty interacted with the students was a rare thing, and I had to stop myself several times during the first few days to truly absorb the fact that the Berlin Phil members I had long watched on Digital Concert Hall were sitting among students in the lounge of Kitara sipping coffee, or that veterans of the Vienna Phil were standing around chatting casually with students before rehearsal. These kinds of brief, precious moments are really special for students like us.

2. I truly believe that we have all been made better people through participating in PMF, better armed to go out into the world, and in our own little ways to follow Bernstein's vision of creating a more peaceful world through the sharing of music. The presence of an audience is as instrumental to shaping a performance as the performers themselves; with the audience and performers together, music is truly created. I could certainly feel the remarkable presence of the audience at each and every concert, and for that I cannot thank you enough.


July: PMF season in Sapporo. A complete cycle of seasons has now passed since Bernstein Place was created. It's as if the clear summer sky, brilliant sunshine, and vividly colored trees and flowers are all extolling the Bernstein statue. In this edition we bring you Midsummer Bernstein Place.