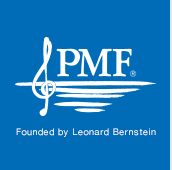 The International Tchaikovsky Competition is known as one of the world's top three music contests, along with the Queen Elisabeth Competition and the International Chopin Piano Competition. The appearance of Dmitry Masleev (the winner of the competition's piano category as announced on July 1) as a soloist at PMF 2015 has now been confirmed.
The 27-year-old Russian is the latest rising-star pianist to have won this world-renowned quadrennial competition, which is noted for its history and prestige. The appearance at PMF 2015 will be his Japan debut.


City of Music, Summer of Music
- PMF 2015 now in its second half

Leonard Bernstein, a premier 20th-century conductor and composer, founded the educational international Pacific Music Festival in Sapporo in 1990 to foster the development of young people through music and share the excitement it brings as widely as possible.
The 26th Pacific Music Festival 2015 kicked off at Sapporo Art Park on July 12, and is already in its second half. The host city Sapporo, which is known for its green trees and blue sky, is currently filled with music.
The faculty members providing guidance to Academy students in the second half are from PMF AMERICA, which has taken over the duty from PMF EUROPE. The PMF Orchestra, which is comprised of Academy members, has made remarkable progress in such a short time.
The event offers outstanding opportunities for people to attend PMF concerts and enjoy a summer of music to accentuate the fleeting local summer here in Hokkaido's capital city.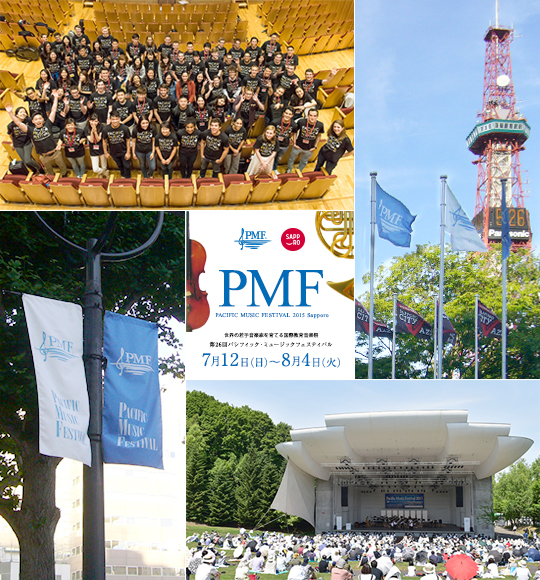 A delight for the ears and the taste buds
- guidance from the new Nearby Gourmet Spots web page
The new Nearby Gourmet Spots web page features restaurants near Sapporo Concert Hall Kitara (the festival's main venue) as recommended by PMF staff as a resource for concertgoers planning a post-event meal.
The page offers a novel way of choosing for anybody struggling to decide on a restaurant, and is highly recommended for people attending concerts.


The ultimate PMF Orchestra performance led
by Maestro Valery Gergiev
The climax of PMF 2015 will be the PMF Orchestra Program C conducted by Valery Gergiev, who is the festival's 6th Artistic Director as of the present season. This exciting program includes a Rachmaninoff piano concerto full of Russian melancholy and a Shostakovich symphony masterpiece with hidden codes.
The PMF Orchestra, which brings together young talent from around the world, and International Tchaikovsky Competition winner Dmitry Masleev will perform together at the event. The sound they create will be exhilarating, representing the resonance of ambitions and aspirations held by musicians of the same generation under the impassioned guidance of Maestro Gergiev. The occasion offers a fine opportunity to experience the luster of youth and inspiring music delivered by Valery Gergiev, Dmitry Masleev and the PMF Orchestra this summer.