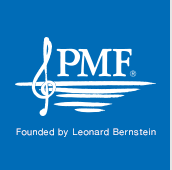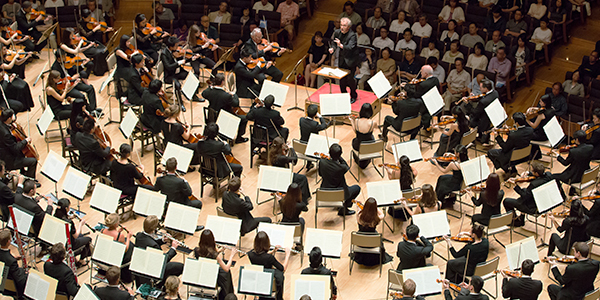 PMF 2015 Tickets On Sale Now!
Following on 'PMF Friends' special advance reservations and then general advance reservations, PMF 2015 general ticket sales began on Sunday, April 12.
PMF Friends "My Seat" ticket sets proved very popular with our customers, and tickets for the PMF GALA Concert, the PMF BERLIN Concert, and the PMF VIENNA Concert (July 14) sold out almost immediately after their release to Friends members and ticket agencies on Sunday, April 5. Tickets for other concerts are on sale now, including those for PMF Orchestra Concerts (Programs A & B) led
by the prominent conductor David Zinman, the Bernstein Memorial Festa Concert, featuring popular works by Bernstein, Gershwin, and Copland along with captivating opera arias, and PMF's annual Picnic Concert. Why not make this a summer of music with PMF 2015?
At the time of this writing, there are still a few tickets left for the PMF VIENNA Concert (July 17). Act now!


PMF EUROPE and PMF AMERICA
After their selection through auditions, young musicians from all over the world gather in Sapporo as the PMF Academy. PMF 2015 will showcase 85 members from 24 countries and regions.
The Orchestra Academy, one of three Academies in this year's educational program – Orchestra, Conducting, and Vocal – is instructed by PMF EUROPE and PMF AMERICA.

PMF EUROPE is comprised of members of the Wiener Philharmoniker and the Berlin Philharmoniker, both matchless in the European classical music world, and PMF AMERICA, consisting of members of major North American orchestras such as the Metropolitan Opera Orchestra and the Philadelphia Orchestra. Not only do they serve as faculty during the festival, but also as members of the PMF Orchestra performing alongside the Academy, in addition to their performances in other concerts including PMF VIENNA Concerts and the PMF BERLIN Concert.
Through this well-rounded instructional system, Academy members are able to gain an intensive education on European and American performance techniques and styles, and audiences can enjoy first-rate music in PMF concert venues.
PMF EUROPE and PMF AMERICA comprise one unique aspect of the international educational Pacific Music Festival.


Open Rehearsals
- Experience the intensity of crafting music live!
Open rehearsals allow the public to attend PMF Orchestra rehearsals and dress rehearsals. The program has many fans!
In addition to orchestra rehearsals, this year's Open Rehearsals include those of the Vocal Academy, led by Gabriella Tucci (soprano). Ms. Tucci made her debut as Mimi in Pucinni's "La Boheme" at La Scala;
| | |
| --- | --- |
| she has been active since the era when great divas such as Maria Callas and Renata Tebaldi reigned. Presently she is the primary authority on fostering the next generation in the bel canto style of Italian opera. | Gabriella Tucci (soprano) |
The site of music-crafting, where conductor, orchestra, and singers strive toward a unity of sound, abounds with a presence and intensity different from those of a concert. Experience for yourself the passion of instructors and the ambition of the Academy resonating together.




PMF Link Up Concert
- featuring elementary school students!
New York's Carnegie Hall captures the imaginations of people around the world as a "palace of classical music." Since 2013, PMF has implemented the PMF Link Up Concert, based on Carnegie's music educational program aimed at elementary school students in cooperation with the Sapporo City Board of Education.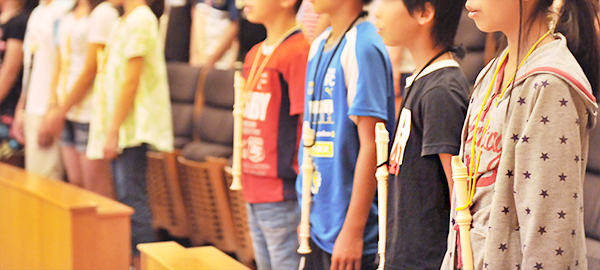 Sixth graders in city elementary schools practice singing and playing soprano recorders in music classes, culminating in a performance with the PMF Orchestra in July.
This will be the third implementation, with approximately 670 student participants from 10 elementary schools: Sakaenishi, Higashikawashimo, Kyoei, Tsukisamu, Higashiyama, Sumikawanishi, Makomanaikoen, Seien, Hassamu, and Yamanote Special Support Education School.
Every year, the students' eyes shine with their sense of achievement and the joy of "linking up" with an orchestra.
| | |
| --- | --- |
| | The orchestra will be led by the first PMF graduate to return as a faculty member (PMF AMERICA), principal bassoon of the Philadelphia Orchestra Mr. Daniel Matsukawa, and Sapporo-born soprano Kanae Kushima will serve as MC. |