PMF 2015, the 26th implementation since its founding in 1990, will feature Valery Gergiev as Artistic Director and mark the beginning of its path into a new quarter century. This is an introduction to the PMF Orchestra programs adorning the first season on that path.
This year once again, a wide variety of programs will be presented, including Program A, studded with well-known music from various parts of Europe, spanning across Germany, Austria, and the Czech Republic, Program B, with two symphonies allowing the stylistic evolution from the Classical era to the Romantic era to be experienced directly, and Program C, combining Beethoven$B!G(Bs majestic $B!H(BEmperor$B!I(B concerto with a masterpiece by Shostakovich $B!](B a specialty of Gergiev$B!G(Bs.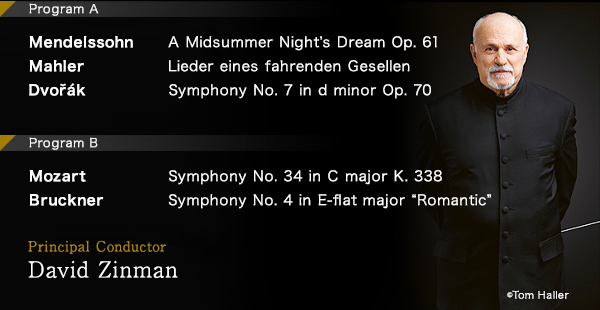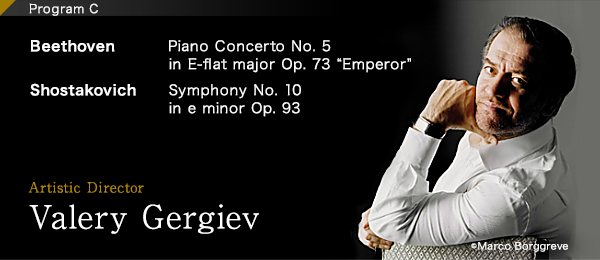 PMF, in partnership with the $B!H(BNaxos Music Library$B!I(B $B!](B operated by NAXOS, a classical music label boasting the largest repertoire in the world $B!](B will provide a listening service with highlights from music to be performed on PMF Orchestra programs.
PMF Friends is a supporting-members$B!G(B system with the goal of supporting the work of fostering the next generation of young musicians. Many benefits are available to those who join PMF Friends, starting with advance reservations and discounts on concert tickets.
Why not share in the unique sensation of the youthfully vibrant PMF Orchestra$B!G(Bs fresh sound, resonant with hope, passion, and inspiration?
The PMF Friends $B!H(BMy Seat$B!I(B and $B!H(BTour S Seat$B!I(B ticket sets $B!](B highly popular in previous years $B!](B will be offered this year as well. They$B!G(Bre worth investigating; significant discounts are included!